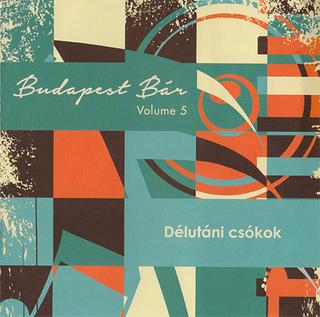 2014. október 29-én jelent meg a Budapest Bár Délutáni csókok címû új lemeze, amelyet a Húszezer éjszakás kaland folytatásaként definiál a népszerû és kiváló zenekar. Míg a tavaszi lemezre vidámabb, táncosabb dalok kerültek, az õszi-téli napokra szánt új album számai líraibb zenékkel ölelésre, összebújásra inspirálják a hallgatókat.
Tracklist:
01 – Billie Jean (ének- Tania Saedi)
02 – Én a bánatot csak mindig kifogom (ének- Bangó Margit, Mező Misi)
03 – Durva dal (ének- Kiss Tibor)
04 – Sound Of Silence (ének- Lovasi András, Keleti András)
05 – Tanulj meg fiacskám komédiázni (ének- Szűcs Krisztián)
06 – Where The Wild Roses Grow (ének- Németh Juci, Frenk)
07 – Ferenc (ének- Rutkai Bori)
08 – Piros madár (ének- Lovasi András)
09 – Everybody's Talkin (ének- Frenk)
10 – Az eső és én (ének- Németh Juci).
11 – Nagyságos asszonyom (ének- Keleti András)
12 – Dead And Lovely (ének- Behumi Dóri)
13 – Délutáni csókok (ének- Kollár-Klemencz László)
14 – Még egy szippantás drágám (ének- Ferenczi György)
15 – Hulló falevelek (ének, zongora- Iván Szandra)
Köszönet thoms01-nek (Naftamusic), az eredeti feltöltésért!
https://zenekucko.com/bubav5decso
Ha kicsomagolásnál jelszót kér, írd be a Zenekucko szót a megfelelő helyre.
Találatok: 10