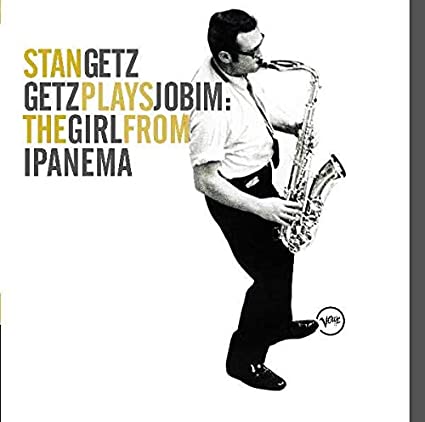 It is rare one can receive a CD collection for review and know already the songs are time-tested over a period of decades and worthy of a five-star top rating, and this collection is that rare exception that is definitely a five-star.
For those who love the bossa nova music that emerged in the 1960s, this is one of the finest collections available featuring Stan Getz on tenor saxophone and Antonio Carlos Jobim on piano and vocals, and Astrud Gilberto on vocals.
There are 14 songs in this collection, GETZ PLAYS JOBIM: THE GIRL FROM IPANEMA. The sound is flawless and the production values on this release are excellent.
This collection showcases Stan Getz and those who accompanied him when Bossa Nova exploded with passion and sensitivity on the musical scene. This collection is a listening treat and will attract all listening audiences who enjoy enjoyable & entertaining jazz with a world beat! The music is as vibrant and lovely and exciting today as it was 50 years ago! Excellent.
Tracklist:
01.Corcovado (Quiet Nights Of Quiet Stars)
02.Desafinado (Instrumental Version)
03.Chega De Saudade (No More Blues)
04.The Girl From Ipanema
05.O Morro Não Tem Vez
06.Vivo Sonhando (Dreamer)
07.One Note Samba (Instrumental Version)
08.Eu E Voce (Me And You)
09.Desafinado (Vocal Version)
10.Once Again (Outra Vez)
11.O Grande Amor
12.Só Danço Samba
13.How Insensitive
14.One Note Samba (Vocal Version)
Credits :
Alto Flute – Ed Caine (tracks: 3)
Bass – Chuck Israels (tracks: 14), Gene Cherico (tracks: 8), George Duvivier (tracks: 10), Keter Betts (tracks: 2, 7), Tony Williams (tracks: 1, 3 to 6, 9, 11 to 13)
Bass Clarinet – Romeo Penque (tracks: 3)
Bass Trombone – Tony Studd (tracks: 3)
Bass, Guitar – Gene Byrd (tracks: 2, 7)
Cabasa – Carmen Costa (tracks: 3)
Clarinet – Babe Clark (tracks: 3), Ray Beckenstein (tracks: 3)
Drums – Bill Bailey (tracks: 10), Buddy Deppenschmidt (tracks: 2, 7), Hélcio Milito (tracks: 8), Joe Hunt (tracks: 14), Johnny Rae (tracks: 3), Milton Banana (tracks: 1, 4, 6, 9, 11, 12), Paulo Ferreira (tracks: 5, 13)
Flugelhorn – Clark Terry (tracks: 3)
Flute – Jerry Sanfino (tracks: 3)
French Horn – Ray Alonge (tracks: 3)
Guitar – Charlie Byrd (tracks: 1, 4), Jim Hall (tracks: 3), Kenny Burrell (tracks: 8), Laurindo Almeida (tracks: 10), Luiz Bonfá (tracks: 5, 13)
Guitar, Vocals – João Gilberto (tracks: 1, 4, 6, 9, 11, 12)
Orchestra – Gary McFarland's Orchestra (tracks: 3)
Percussion – Bill Reichenbach (tracks: 2, 7), Edison Machado (tracks: 10), José Soorez (tracks: 10), José Paulo (tracks: 10), Luis Parga (tracks: 10)
Percussion, Drums – José Carlos (tracks: 5, 13)
Piano – Hank Jones (tracks: 3)
Piano, Guitar – Antonio Carlos Jobim (tracks: 1, 4 to 6, 9, 11 to 13)
Tambourine – José Paulo (tracks: 3)
Tenor Saxophone – Stan Getz
Trumpet – Bernie Glow (tracks: 3), Doc Severinsen (tracks: 3)
Valve Trombone – Bob Brookmeyer (tracks: 3)
Vibraphone – Gary Burton (tracks: 8, 14)
Vocals – Astrud Gilberto (tracks: 1, 4, 8, 14), Maria Toledo (tracks: 13)
 https://pastebin.com/XGzHCRzr
Találatok: 4