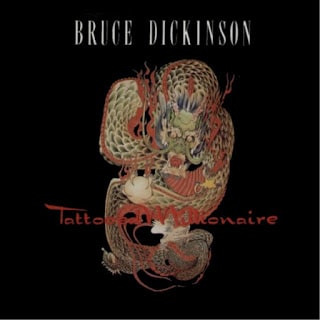 Dickinson első szóló próbálkozása a Bring Your Daughter… to the Slaughter dal volt 1989-ben, amely eredetileg egy horrorfilm ötödik folytatásához íródott. A filmhez készült stúdiófelvételen Bruce mellett a gitáros Janick Gers, a basszusgitáros Andy Carr és a dobos Fabio del Rio játszik. A dal megtetszett az Iron Maiden-főnök Steve Harrisnek, így kerülhetett föl a Maiden előadásában a No Prayer for the Dying lemezre 1990-ben.
Ugyanebben az évben jelent meg Bruce első szólóalbuma Tattooed Millionaire címmel a Sony Music kiadásában. A lemezre került dalokat Dickinson és Gers közösen szerezték, és ugyanaz az összeállítású csapat játszotta fel őket, mint a Bring Your Daughter-t. A Dickinsontól megszokott heavy metal stílustól eltérően a Tattooed Millionaire dalainak hangvétele inkább rockosabb. Az albumról négy kislemez jelent meg. A Born in '58 önéletrajzi ihletésű dal és Bruce a nagyapjának dedikálta. A címadó szám (Tetovált milliomos) a Mötley Crüe basszusgitáros Nikki Sixxről szól és a kislemezek közül ez jutott a legmagasabbra a slágerlistán. Az All the Young Dudes egy Mott the Hopple dal feldolgozása, amit eredetileg David Bowie írt az angol heavy rock együttes számára.
Bruce Dickinson ezzel az albumával ráérzett az önálló munka ízére, és egy folyamat kezdete volt ez a korong. Általa egy egyre inkább korlátok közé szorított énekes (Iron Maiden) mutathatta meg, hogy egy olyan világba is el tudja kalauzolni híveit, mely távol áll attól, amit megszokhattunk tőle.
Tracklist :
01. Son of a Gun
02. Tattooed Millionaire
03. Born in '58
04. Hell on Wheels
05. Gypsy Road
06. Dive! Dive! Dive!
07. All the Young Dudes (Mott the Hoople cover)
08. Lickin' the Gun
09. Zulu Lulu
10. No Lies
Közreműködő zenészek:
Bruce Dickinson – ének
Janick Gers – gitár
Andy Carr – basszusgitár
Fabio Del Rio – dob
vendég:
Don Airey – billentyűs hangszerek
https://tinyurl.com/3735ttk4
Találatok: 36