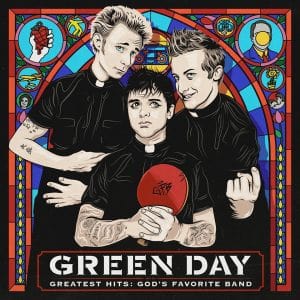 A Green Day egy 1986-ban, Berkeley-ben megalakuló kezdő együttesből a világ egyik legdinamikusabb és legnépszerűbb rockbandájává váltak. A zenekar 1994-ben robbant be 'Dookie' című lemezével, amely csak az USA-ban 10 millió példányban kelt el, majd 2004-ben az 'American Idiot' című rock opera égette őket be véglegesen a globális közönség köztudatába.
A provokatív cím a Green Day márciusi Ed Sullivan Theatre-beli koncertjén született meg, ahol Isten kedvenc együtteseként mutatták be az együttest. A Greatest Hits egészen a kezdetektől napjainkig gyűjti össze a rockbanda legnagyobb és legfontosabb slágereit. Helyet kap a korongon két új szerzemény is: a "Back In The USA" mellett az "Ordinary World" feldolgozása Miranda Lamberttel együtt.
Green Day will release a career-spanning compilation, Greatest Hits: God's Favorite Band, on November 17. Check out the tracklist and cover art below. A pair of new songs round out the 22-track LP: "Ordinary World," a collaboration with country artist Miranda Lambert, and "Back in the USA." (Lambert and Billie Joe Armstrong previously collaborated at the 2014 Grammys.) The album title references a "Colbert" skit in which "God," projected onto the studio ceiling, interrupted the host's introduction to hype his "favorite band" Green Day.
Tracklist:
01. 2000 Light Years Away
02. Longview
03. Welcome To Paradise
04. Basket Case
05. When I Come Around
06. She
07. Brain Stew
08. Hitchin' a Ride
09. Good Riddance (Time of Your Life)
10. Minority
11. Warning
12. American Idiot
13. Boulevard of Broken Dreams
14. Holiday
15. Wake Me Up When September Ends
16. Know Your Enemy
17. 21 Guns
18. Oh Love
19. Bang Bang
20. Still Breathing
21. Ordinary World [ft. Miranda Lambert]
22. Back In The USA
Billie Joe Armstrong – ének, gitár
Tré Cool – dobok
Mike Dirnt – basszusgitár
Találatok: 52