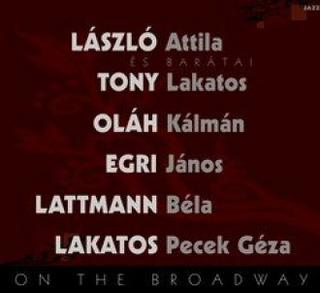 László Attila neve ismerősen csenghet mindazok számára, akik figyelemmel kísérik a magyar jazzélet jeles képviselőinek zenei munkáit, de sokak Charlie vagy Cserháti Zsuzsa lemezein találkozhattak a remek gitáros nevével.
A gitáros, zeneszerző számos díj és elismerés tulajdonosa, a Liszt Ferenc Zeneművészeti Egyetem docense. Eddigi pályafutása során számtalan kiváló művésszel dolgozott együtt és sok-sok igényes produkcióhoz adta kiváló szaktudását. 2004-ben megjelent On the Broadway című albuma olyan örökzöldeket foglal magába, amelyek legendássá vált előadásokon hangzottak el először. Kevés olyan kiadvány készül a világon, amelyen jazz standardeket hallhatunk olyan zenészek előadásában, akiket évek óta szoros barátság köt össze.
On the Broadway című albuma igazi, különleges zenei csemege. Ezúttal nem saját együttesével, hanem régi zenész barátaival készített lemezt, melyen jazz örökzöldeket, Broadway melódiákat játszanak. László Attila a felvételen csupa olyan kiváló muzsikussal játszik együtt, aki mind igazi "ász" a maga területén. Tony Lakatos szaxofonos, Oláh Kálmán zongorista, Egri János bőgős, Lattmann Béla basszusgitáros, Lakatos Pecek Géza dobos. Valamennyien élvonalbeli, nemzetközileg ismert zenészek. Régi elképzelésük vált valóra a lemez elkészítésével, hiszen korábban különböző formációkban ugyan gyakran játszottak együtt, de ezzel az összeállítással most először készítettek lemezt. Sokéves barátságuk gyümölcse ez az album, amivel ezek a fantasztikus muzsikusok egymást és minket, a hallgatót ajándékozzák meg. A felvételeket hallgatva úgy érezzük, mintha egy parázs hangulatú estét töltenénk el egy jazzklubban a Broadway-n.
A számok:
1. Cherokee
2. Sugar
3. Easy living
4. Triste
5. My romance
6. Days of wine and roses
7. Bud Powel
8. Summertime
9. Falling in love with love
Levin 2012. május 21-i bejegyzésének frissítése.
https://pastebin.com/WgLh4qQm
Találatok: 3