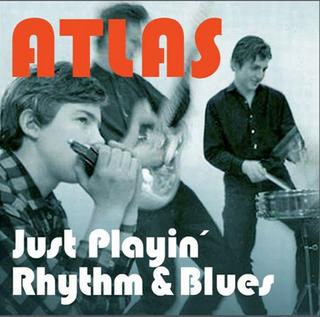 Megjelent a Just Playin' Rhythm & Blues című Atlas CD! Ezen a legelső korszak muzsikája hallható, a digitálisan, mesterien hangrestaurált felvételek 1965-ben készültek anno egy darab mikrofonnal & magnetofonnal. A program nagy része, 14 szám egy Budai Ifjúsági Park-beli koncert felvétele, öt további dal pedig egy rég elfeledett demofelvétel számai. A CD egy nyolc oldalas füzetet tartalmaz a banda korai történetével és fényképekkel. A lemezt a Moiras Records korlátozott, háromszáz példányban jelentette meg.
This CD features the music of the very first period of Atlas, the great Hungarian beat/soul band. In the early '60s they played mainly rhythm and blues and some guitar instrumentals. The recordings were made in 1965, with just one magnetophone and one mike. Most of the tracks were recorded in Buda Youth Park, a very popular outdoor venue of the age. The five bonus tracks are taken from a long-forgotten demo recording. The CD comes with a 8-page booklet with pics and the band's early story in Hungarian. Limited edition of 300 copies.
Bíró GáborR (Doki) – szólógitár / guitar
Flamm Ferenc – akkordgitár, ének, zenekarvezető / rhythm guitar, vocals, band leader
Horváth György – basszusgitár, ének / bass, vocals
Makrai Pál – basszusgitár, ének / bass, vocals
Szabó György (Manó) – szájharmonika, orgona, vokál / harp, organ, vocals
Szabó János – dob / drums
Tracklist:
01 – Baby
02 – Charlie
03 – The Millionare
04 – Improvisation
05 – Not Fade Away
06 – I Just Wanna Make Love To You
07 – Dynamite
08 – Romanian Dance
09 – Farmer John
10 – Wonerful Land
11 – I Gotta Move
12 – The Rocker
13 – What A Shame
14 – What Do I Say
Bonus tracks:
15 – Andalucia
16 – Romanian Dance
17 – Darling
18 – The Rocker
19 – Love Me Tender
Köszönet thoms01-nek (Naftamusic), az eredeti felöltésért!
https://zenekucko.com/atjurhyblu
Ha kicsomagolásnál jelszót kér, írd be a Zenekucko szót a megfelelő helyre.
Találatok: 7