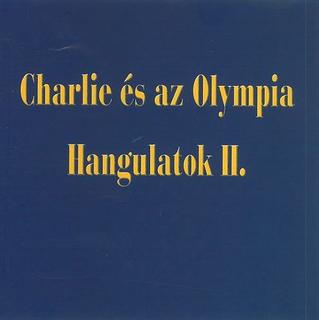 Horváth Károly, művésznevén Charlie (Ónod, 1947. október 28. – ) Liszt Ferenc-díjas magyar énekes, könnyűzenész, a rock, a jazz, a blues, a soul és a funky jellegzetesen rekedt hangú előadóművésze, trombitás. Székesfehérvári gimnazista évei során alapított először rockegyüttest, majd 1967-től a Decca tagja lett. Az együttest jogi okokból át kellett nevezniük, választásuk a mexikóvárosi világverseny által megihletve az Olympiára esett. Ez a Deccával csak részben azonos felállás már kisebbfajta nemzetközi hírnévre is szert tett: országszerte tett fellépéseik mellett Belgrádban is zenéltek. 1970-ben belső ellentétek miatt feloszlott az Olympia. Ezután a Generál együttes tagja volt, majd anak feloszlása után, egy időre egy névben újjáalakult Olympia adott helyet a zenésznek, és svájci és skandináviai fellépéseket tartottak. Egy-egy ilyen fellépésüket rögzítették is, ezekből készült később a Hangulatok I. majd a Hangulatok II. című lemez.
Tracklist:
01 – Sexy Eyes
02 – You've Made Me
03 – Give Me The Night
04 – Upside Down
05 – Goin' Back To My Roots
06 – Ain't No Stoppin' Us now
07 – Rytmo do Brasil
08 – What Life
09 – Comin' Up
10 – Swing Medley
11 – Just The Way You Are
12 – Street Life
13 – Georgia
14 – Moonlight Serenade
15 – Still
16 – Do That To Me
17 – We Lost In Music
18 – My Way
19 – What Difference
20 – Georgie Porgie
Külön köszönet baljan-nak a lemezért és az eredeti feltöltésért!
https://zenekucko.com/cholyhan2
Ha kicsomagolásnál jelszót kér, írd be a Zenekucko szót a megfelelő helyre.
Találatok: 27