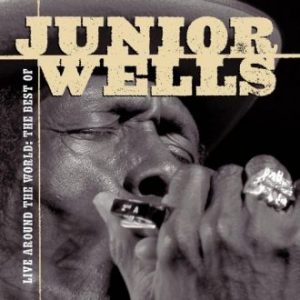 1998 január 15-én, hosszas betegség után elhunyt Junior Wells a kiváló herflis. Pályája rendhagyó módon gyermekkori bűnözéssel kezdődött. Egy boltban szájharmonikát lopott, de rajtakapták. Felmentésének feltételéül azt szabták, hogy tanuljon meg játszani a hangszeren. Mint a későbbiek mutatták, a nevelőcélzatú "büntetés" bevált. Olyan helybéli muzsikusok voltak rá hatással, mint Howlin' Wolf és Junior Parker.
Az életéről még dióhéjban annyit, hogy 1934. december 9-én, a Tennessee állambeli Memphis-ben született és Amos Blackmore néven anyakönyvezték. Tizenkét éves korában Chicagóba, a blues fővárosába költözött, ahol újabb inspirációkat kapott Tampa Red gitárostól, valamint Big Maceo és Sunnyland Slim zongoristáktól. A Myers-fivérekkel – Louis (gitár) és Dave (basszus) – triót szervezett Three Deuces néven, majd Fred Below dobos csatlakozása után Four Aces néven léptek fel.
A Muddy Waters Blues Band-et elhagyó, már befutott Little Walter szájharmonikás szemet vetett a kvartettre és élére állt. Főhősünk "kárpótlásul" a chicagói "Blueskirály" Muddy Waters zenekarába került. Innen önállósította magát, illetve sokáig a gitáros Buddy Guy-jal szerepelt együtt.
Legismertebb dala,, amely szinte "védjegye", az 1960-ban készült Messin' With The Kid című darab, melyet többen – köztük a felejthetetlen Rory Gallagher is – eljátszottak. Junior Wells együttesével 1996 novemberében fellépett Budapesten is. (Nemes Nagy Péter)
Papnevelde barátunk az albumot a következő sorok kíséretével küldte nekünk: "A lemez 2002-ben jelent meg a Legacy és a COLUMBIA gondozásában. Az album a háború utáni chicago-blues jeles képviselőjének, Junior Wells-nek egy válogatás albuma.
Junior fiatalon megfordult Muddy Waters zenekarában -mint szájharmonikás, majd Buddy Guy híres gitáros elválaszthatatlan zenésztársa lett. Stílusa bár a gyökerekből táplálkozik, jócskán túlmutat a hagyományos delta-blues keretein. Hangzása igazi nagyvárosi blues, soul és R&B. A színpadon mindig extravagáns öltözékével és humorával hívta fel magára a figyelmet. Kiváló showman és táncos volt. Állítólag még James Brown is koppintott tőle pár tánclépést.
Ez a lemez a '96-'97 világ körüli turné legjobb élő felvételeit tartalmazza, melyek méltón váltak Wells munkásságának végső összegzőivé. A zenekar vér profin kísér, Junior pedig megmutatja, milyen egy igazi bluesman…
Jó szórakozást – papnevelde"
Köszönjük!
A számok:
01. Broke & Hungry
02. Hoo Doo Man
03. What My Mama Told me
04. Sweet Sixteen
05. Got My Mojo Working
06. Little Red Rooster
07. Messin' with the Kid
08. Take Off Your Shoes
09. Waitin' On the Night Train
10. Little By Little
11. Help Me
http://links.snahp.it/111Well_s
Találatok: 2