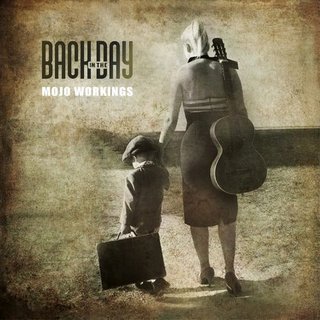 A Mojo Workings lapvetően blues zenét játszik, bár a saját számaik eltérnek a műfajtól. Sok popos, folkos elem van bennük, amit erősít a speciális éneklés. A már tradicionálisnak mondható két gitár és harmonika mellett a háromszólamú éneklés az, amitől hangképünk sajátos, egyéni hangzású. Gyakran használnak hazánkban még alig ismert, de másutt tradicionális hangszereket: diddley bow-t, stomp boxot, extra harmonikákat (pld. akkord harmonika), stb. Back In The Day című lemezünk zeneanyagán fele részben saját számok és fele részben – sokszor az iróniát sem titkolva – erősen átalakított feldolgozások találhatóak. Próbálták a legszínesebben kihasználni a hármunk adta lehetőségeket, különféle hangszíneket, még akkor is, ha a laikus talán úgy gondolja, hogy két gitárral és harmonikával elég szűkösek lehetnek a lehetőségek. A lemez elkészítéséhez három szám erejéig vendégzenészeket hívtak. Olyanokat, akik már eddig is játszottak velük olykor-olykor: dalaik megszínesítésére az alap csapat (Honfi Imre Olivér – ének, gitár, Horváth János – ének, gitár, Szabó Tamás – ének, szájharmonika) mellett Szabó Csobán Gergey bőgőn, Mezőfi "Fifi" István dobon, Mazura János tubán játszanak.
Tagok:
Honfi Imre Olivér – ének, elektromos gitár, diddley bow
Horváth János – ének, akusztikus gitár, stompbox
Szabó Tamás – ének, szájharmonika, basszus harmonika, harmonetta
Tracklist:
01 – Road to You
02 – Don't Wanna See You Again
03 – Friend of the Devil
04 – Cup of Tea
05 – Sing It
06 – Harmonica Rag
07 – If You Live
https://zenekucko.com/mowoba
Ha kicsomagolásnál jelszót kér, írd be a Zenekucko szót a megfelelő helyre.
Találatok: 6