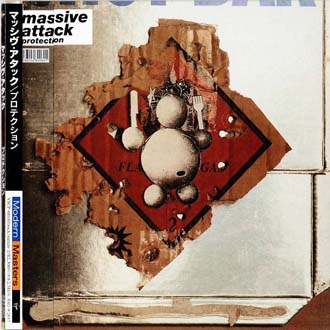 Az 1001 Albums You Must Hear Before You Die (1001 lemez, amit hallanod kell, mielőtt meghalsz) sorozat 776-ik lemeze.
A Massive Attack egy trip-hop együttes Bristolból, a The Wild Bunch (Vadhajtás) művészeti közösségből önállósultak. Elektronikus zenét játszanak, amely kezdetben teljes egészében jazz, rap, reggae és egyéb afro-amerikai eredetű alapokra épült. Harmadik albumukra megérkeztek a torzított gitárok és egyúttal zenéjük hangulata melankolikusból kifejezetten sötétre, depresszívvé vált (ez, a kilencvenes évek vége volt a The Prodigy, a Chemical Brothers és más hasonló bandák csúcsra kerülésének ideje. A 2000-es évekre a rockos hangzás kicsit megszelídült).
A zenekar kemény magja, állandó tagjai a vezető, énekes és zenei agy, Robert Del Naja (3D), Andrew Vowles (Mushroom) zeneszerző és DJ, valamint a rapper-énekes-vokalista Grant Marshall (Daddy G).
1988-ban adták ki első, Any Love c. kislemezüket, ezt 1991-ben követte első albumuk, a Blue Lines; melyet – a rajta lévő Unfinished Sympathy c. számmal. A 90-es évek a zenekar igazi tündöklésének évei. A Protection meghozta a világsikert, a Mezzanine pedig feltette az i-re a pontot. A Bristol Sound : az ugyancsak Bristolból induló Portishead megjelenésével hamar egyenlőségjel került a város neve, a trip-hop közé.
A Protection, 1994-ben jelent meg. Tricky, az egyik állandó vendégzenész még közreműködött rajta, de aztán szólókarrierje építése miatt útjaik különváltak. Az album elkészítésében fontos segítséget jelentett a skót zeneszerző, Craig Armstrong.
A trip-hop műfaj a század végére egyre életképesebb irányzattá vált, amelyet olyan előadók tettek népszerűbbé, mint a Morcheeba, vagy Björk.
01. Protection
02. Karmacoma
03. Three
04. Weather Storm Performer [Sample]– Pieces Of A Dream
05. Spying Glass
06. Better Things Guitar – Chester Kamen, Performer [Sample]– James Brown
07. Eurochild
08. Sly Arranged By, Conductor – Craig Armstrong
09. Heat Miser Drums – Rob Merril
10. Light My Fire (Live) Performer [Sample]– Young Holt Trio
https://tinyurl.com/82sxhy22
pastebin
---
Találatok: 37