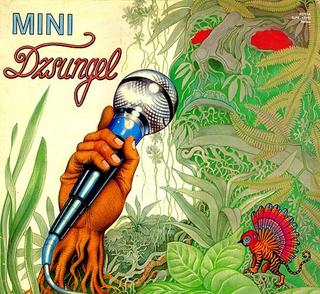 A Mini egy dzsessz-rock együttes volt, amely a fénykorát az 1970-es években élte. Illetve a köztudatban mindig is jazz-rock formációként élt, de underground, rhythm and blues zenekarként indult. Az együttes 1969. augusztus 26-án a Sakk-Matt törzsközönsége előtt mutatkozott be az Ifjúsági Parkban, ahol Troggs, Jimi Hendrix és a Who dalait, illetve saját dalaikat viharos siker fogadta. Néhány hét alatt elismert zenekarrá váltak, és a Syrius Csanády utcai klubja mellett, 1969 őszén a Bem rakparton megnyíló Mini klub lett a rockerek és a hippik egyik törzshelye, ahol a kezdeti rhythm and blues korszak után hamarosan megismertette híveit a jazz-rockkal is. A sikerek ellenére nagylemezük nem jelenhetett meg, amely a zenekar felbomlásához vezetett. 1977-re sikerült talpra állnia az együttesnek. Ezután a Mini műsorában a rhythm and blues és a jazz-rock szerzemények mellett a hosszabb lélegzetű elektronikus, elvont zenei és szövegvilágot képviselő dalkísérletek is helyet kaptak. Ezzel a zenekar a két szék között a földre huppant, sem a régi Mini rajongók, sem a kemény rock közönsége nem szerette igazán. Egy zajos, de rövid életű sikerkorszak után visszavonultak, és amikor 1983-ban a Dzsungel c. lemezükkel újra visszatértek a színre, (a régi önmagához képest) meglehetősen fáradt, önismétlő zenekar benyomását keltették. Török Ádám le is vonta gyorsan a konzekvenciát, még abban az évben az október 20-i buli után feloszlatta csapatát.
Tracklist:
01 – Körbezárt a dzsungel
02 – Jaguárok, kolibrik és amazonok
03 – Neon éjszakák
04 – Álmodom
05 – Indul a koncert
06 – Arménia
07 – Mániákus nosztalgia
08 – Őrtorony
https://zenekucko.com/mindzsu
Ha kicsomagolásnál jelszót kér, írd be a Zenekucko szót a megfelelő helyre.
Találatok: 9