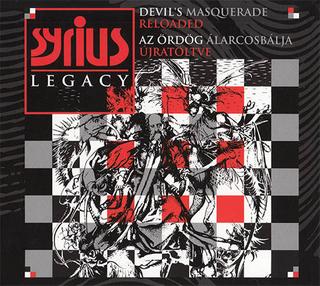 Van-e olyan zenerajongó hazánkban, aki ne hallott volna a Syrius együttesről? Hatalmas sikert aratott, imádta a közönség. Egészen új, friss szelet hozott a magyar könnyűzene tájaira, és az igényes muzsikára kiéhezett emberek "falták" rendesen Rádulyék "menüjét". Jöttek-mentek a tagok 1977-ig; ebben az esztendőben oszlott fel végleg a banda. Egészen 2015 októberéig kellett várni, hogy ismét hallhassunk a Syrius-ról. Igaz, 2001-ben újra adott egy koncertet a "big team" a Margitszigeten –sajnos az időközben elhunyt Baronits Zsolt nélkül-, de ezt követően a rajongóknak a régi anyagok újra és újra hallgatása maradt. Itt lépett be a történetbe Maloschik Róbert, aki 2014-ben elhatározta, hogy öt fiatal jazzista részvételével létrehozza a Syrius Legacy-t. A cél nem volt kevesebb, mint a legendás zenekar dalainak feldolgozása, naprakésszé varázsolása, mindeközben megtartva a Syrius eredeti hangvételét, "ars poetica"-ját. Így hát biztos kézzel és füllel fogott hozzá a csapat verbuválásához. Megfelelő inspiráció volt a srácok számára a Syrius zenéje iránti rajongás, Ráduly Mihály tisztelete, és Maloschik Róbert bíztatása. A kemény munka édes gyümölcse az "Az Ördög álarcosbálja – Újratöltve".
Vidákovich Izsák – tenorszaxofon, fuvola
Ludányi Tamás – alt- és szopránszaxofon, EWI
Tempfli Erik – zongora, Hammond orgona, szintetizátor
Fonay Tibor – basszusgitár
Benkó Ákos – dob, ének, ütőhangszerek
Ráduly Mihály – hegedű (8)
Tracklist:
01 – Az Ördög álarcosbálja
02 – Hitvány ember
03 – Voltam már azelőtt ilyen lent
04 – Pszichománia
05 – Egy becsületes ember észrevételei
06 – Szabad bevezetés az "A kiáltás méhében"-hez
07 – A kiáltás méhében
08 – Concerto háromhúros hegedűre és öt korsó sörre
Az eredeti feltöltés thoms01 (Naftamusic) munkája. Köszönet érte!
https://zenekucko.com/syledemare
Ha kicsomagolásnál jelszót kér, írd be a Zenekucko szót a megfelelő helyre.
Találatok: 16