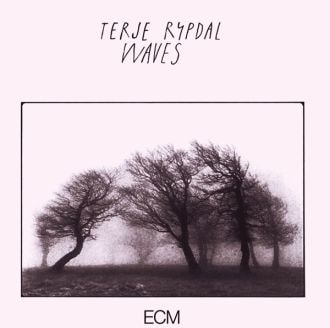 One is often tempted to appreciate Terje Rypdal through the lens of some icy Nordic mystique that, while certainly supported by the sleeves that adorn his music, may ultimately be a myth. Either way, there is something to be said for the biting winds that blow through his sonic landscapes.
I would like to present Waves, however, as a corrective to this assumption, for it emanates nothing but heat. Much of that heat comes courtesy of trumpeter Palle Mikkelborg, whose legendary reputation bears auditory bounty throughout.
Much of the album's blurry spirit takes bodily form in "Per Ulv." Combining a delightfully dated drum machine and quasi-Afrobeat percussion from Jon Christensen with the mellifluous bass of Sveinung Hovensjø, it opens itself to Rypdal's searing flights. Mikkelborg's quick fingers fuel the fire, which calms to a smolder in "Karusell," where he marks his territory with breath rather than exaltation, trading off guttural statements with Rypdal's softened twang. Mikkelborg even contributes a composition of his own in "Stenskoven," a raunchy carnivalesque that might as well have switched titles with its predecessor. The title piece depends from lines of cymbals and snare and is supported by organ. Over this synthesized bliss, Rypdal and his cohorts weave a loose and lyrical song. "The Dain Curse" takes a tripartite structure. A clean bass line and flanged chording from guitar waft around the muted horn of a distant horizon, only to be cracked by Christensen like an egg of rock that oozes yolky guitar solos before being poached into stillness. "Charisma" reprises the organic river of "Waves," into which Rypdal trails his fingers, leaving ephemeral shapes on the water's surface. Cymbals drop like seeds, only to be washed away in the current, their potential life leaving like ghosts via the haunted trumpet.
01.Per Ulv
02.Karusell
03.Stenskoven
04.Waves
05.The Dain Curse
06.Charisma
Terje Rypdal – electric guitar, keyboard, synthesizer
Palle Mikkelborg – trumpet, fluegelhorn, RMI, tac piano, ring modulator
Sveinung Hovensjø – basses
Jon Christensen – drums, percussion
http://pastebin.odavisz.cam (klikk)
Találatok: 40