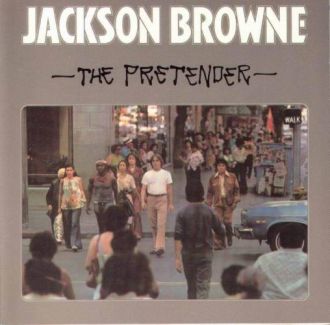 Sok tekintetben Jackson Browne volt a '70-es évek legfontosabb és legfogékonyabb kaliforniai énekese és dalszerzője. Talán csak Joni Mitchell és James Taylor ért fel az ő befolyásához, de egyiküknek sem sikerült úgy visszaadnia a '60-as évek utáni hangulatot, mint ahogyan Browne csinálta.Bár az előadó '70-es évekbeli munkássága rendíthetetlenül személyes volt, mégis egy meghatározó mérföldkövet jelentett a kisbaba-gyártásra szakosodott fiatal generáció számára, akik akkoriban kezdtek ismerkedni a felnőttkor viszontagságaival. Nem csupán a lélekelemző, lírai dalszövegeinek egész sora volt telitalálat, hanem a laza folk-rock stílus is remek követendő példaként szolgált a '70-es évek többi kaliforniai zenészének. Az első turné-albumaival Browne-nak sikerült hűséges rajongótáborra szert tennie, akiknek köszönhetően az 1976-os 'The Pretender'-rel sikerült betörnie a zenei élvonalba. Browne a '70-es évek végén és a '80-as évek elején élte meg karrierje csúcsát, mikor minden egyes kiadott lemeze a legjobb tíz között landolt a toplistákon.
Jackson Browne 1948-ban a nyugat-németországi Heidelbergben született, de mikor három éves volt, a családja Los Angelesbe költözött; s mire tinédzser korba lépett, Browne-ban kialakult a folk zene iránt érzett vonzalom. Elkezdett gitározni és dalokat írni, amiket a helyi folk klubokban adott elő. 1966-ban meghívták a Nitty Gritty Dirt Band-be, akikkel a folk ismeretségi körön keresztül jött össze. Bár Browne csak rövid ideig volt az együttessel, az első két albumukra több saját szerzeménye is felkerült. 1967 elején szerződést kötött a Nina Music-kal, ami az Elektra Records leányvállalata volt. Az 1968-as esztendőben Nina segítségével Browne-nak sikerült olyan előadók albumaira feljuttatnia a dalait, mint Tom Rush és Steve Noonan. Ezekben az években a New York állambeli Greenwich Village-ben élt, illetve Tim Buckley háttérzenekarában dolgozott. Nicoval szintén ekkor kezdett dolgozni, aki felvette Browne három szerzeményét is a 'Chelsea Girl' című albumára.
1968-ban, mikor kapcsolatuk szétesett, Browne visszatért Los Angelesbe, ahol megpróbált kiadni egy szóló-albumot, majd együttest alapítani Ned Doheney és Jack Wilce segítségével – mindezt sikertelenül. Így aztán továbbra is csak helyi szórakozóhelyeken lépett fel, miközben dalszerzői hírneve nőttön-nőtt, és már olyan előadók vették rá dalait a lemezeikre, mint Linda Ronstadt és a The Byrds. 1971-re a széles körben elterjedt demókazettája miatt kiharcolt magának egy szerződést David Geffen gyerekcipőben járó kiadójával, az Asylum Recordsszel.
A 'Jackson Browne'-nak keresztelt album 1972 tavaszán látott napvilágot, amiről az egyik dal, a 'Doctor My Eyes' a legjobb tíz közé került a slágerlistákon. Nem sokkal ez után a bravúr után a Browne és Glenn Frey által közösen írt 'Take It Easy' a The Eagles zenekar nagy áttörése lett. Debütáló albumáról több szám, mint pl. a 'Rock Me on the Water' és a 'Jamaica Say You Will' az énekesek és dalszerzők követendő mintája lett, de mindez nem volt elég ahhoz, hogy Browne popsztárrá nője ki magát. Második albumával, az 1973-as 'For Everyman'-nel egy új, hosszútávú munkakapcsolatot kezdett a zenész David Lindley-vel. A 'ForEveryman' üzleti szempontból csalódást okozott, de rajongóit csak még jobban maga mellé szögezte.
A '74 őszén kiadott 'Late for the Sky' jócskán kiszélesítette Browne hallgatóságát, mivel az album a 14. helyig kúszott fel a toplistákon, és a következő év elejére már be is aranyozódott. Browne első felesége, Phyllis 1976 tavaszán öngyilkosságot követett el, de a tragédia nyomán született meg Browne üzleti szempontból is áttörésnek számító albuma, a 'The Pretender'. A korong az 1976. őszi kiadásakor a legjobb tíz album közé került, '77 tavaszára pedig már platinalemez volt. (rockbook.hu)
A dalok:
01 – The Fuse
Drums : Russ Kunkel
Bass : Leland "Lee" Sklar
Piano : Craig Doerge
Slide Guitar : David Lindley
02 – Your Bright Baby Blues
Drums : Jim Gordon
Bass : Chuck Rainey
Piano : Roy Bittan
Acoustic Guitar : Jackson Browne
Slide Guitar & Harmony : Lowell George
Organ : Bill Payne
03 – Linda Paloma
Vijuella, Guitar & Background vocal : Luis F. Damian
Guitaron, Violin & Background vocal : Roberto Gutierrez
Harp & Background vocal : Arthur Gerst
Arranged by Arthur Gerst
Recorded by Greg Ladanyi
04 – Here Come Those Tears Again
Drums : Jim Gordon
Bass : Bob Glaub
Piano : Bill Payne
Electric & Acoustic Guitar : Fred Tackett
Guitar Solo : John Hall
Organ : Mike Utley
Harmonies : Bonnie Raitt & Rosemary Butler
05 – The Only Child
Drums : Jeff Porcaro
Bass : Chuck Rainey
Piano : Bill Payne
Acoustic Guitar : Fred Tackett
Electric Guitar : Albert Lee
Percussion : Gary Coleman
Harmonies : J.D. Souther & Don Henley
Violin : David Lindley
06 – Daddy's Tune
Drums : Jeff Porcaro
Bass : Leland "Lee" Sklar
Piano : Craig Doerge
Guitar Left : Fred Tackett
Guitar Right : Waddy Wachtel
Slide Guitar : David Lindley
Horns : Jim Horn, Chuck Findley, Dick Hyde & Quitman Dennis
Horns arranged by Jim Horn
07 – Sleep's Dark And Silent Gate
Drums : Jeff Porcaro
Bass : Leland "Lee" Sklar
Piano : Craig Doerge
Acoustic & Electric Guitar : Fred Tackett
Strings arranged by David Campbell
Mixed by Val Garay
08 – The Pretender
Drums : Jeff Porcaro
Bass : Bob Glaub
Piano : Craig Doerge
Acoustic & Electric Guitar : Fred Tackett
Harmonies : David Crosby & Graham Nash
Strings arranged by David Campbell
https://ouo.io/acIIuEZ
Találatok: 29