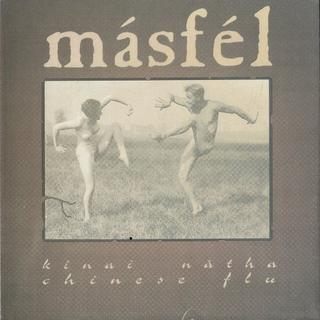 A Másfél egy funk rockból, pszichedelikus rockból, acid jazzből, ambientből és repetitív kortárs zenéből merítő alternatív rockegyüttes. 1989-ben alakult Budapesten. Az együttes eredeti felállása: Balázs János (gitár), Lukács Levente (szaxofon), Hegedüs László(basszusgitár), Hegedüs János (basszusgitár), Kalocsai Tamás (dob). A kísérletezgető együttes első koncertjeit a Kandó Kollégiumban tartotta, ahol a dobos és a szaxofonos tanult, majd más kollégiumokban léptek fel főiskolás bulikon, fesztiválokon. ésőbb már a kultikus FMK-ban, majd a Tilos az Á-ban zenéltek, ahol legtöbbet a hasonló műfajban alkotó Korai Örömmel koncerteztek. 1993-ban magánkiadásban megjelentették első kazettájukat, amit a Schönherz kollégium akkor épülő stúdiójában vettek fel, egy évre rá pedig a Tilos az Á-ban készült koncertfelvételt jelentették meg CD-n, Kínai nátha címmel.
A lemezen szereplő zenészek:
Hegedűs János – basszusgitár
Kalocsai Tamás – dob
Bácsi Attila – gitár
Lukács Levente – szaxofon
Tracklist:
01 – Daráló I. / Grinder I.
02 – Folyami hajózás / River Navigation
03 – Szamba / Samba
04 – Daráló II.
05 – Kínai nátha / Chinese Flu
06 – Skarlát etűd / Scralet Etude
07 – Szemben a nappal / Against The Sun
08 – Rét / The Field
https://zenekucko.com/maskina
Ha kicsomagolásnál jelszót kér, írd be a Zenekucko szót a megfelelő helyre.
Találatok: 37