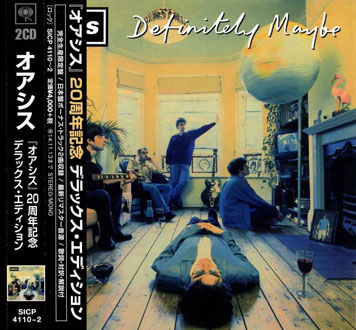 Az 1001 Albums You Must Hear Before You Die (1001 lemez, amit hallanod kell, mielőtt meghalsz) sorozat 768-ik és az Oasis első lemeze.
1994
Anglia rohad, és elege van. A munkanélküliségből, a kilátástalanságból, a szürkeségből – mindenből. A zenéből is. A brit zenei idolok elfáradtak (a Stonestől Paul McCartneyig, Robert Planttől Bruce Dickinsonig), a nyolcvanas évek kedvencei megszűntek (The Jam, The Smiths), a "Madchester" szcéna és a Stone Roses csak nyűglődik, a cipőbámulós gitárzenekarok meg leginkább jelentéktelenségbe süllyednek. Mi maradt még? Az Amerikából hódító grunge, de Cobain halála a műfajt is vesztőhelyre küldte. A Guns N' Roses összeomlott saját sikerétől. Semmi izgalmas, pláne semmi, ami brit, és rajongani lehetne.
Aztán megmozdul valami. A Blur megtalálja szellemes és nagyon slágeres hangját az angol középosztály karikatúráját bemutató Parklife-on, Albarnék áprilisi lemeze után pedig augusztusban megjelenik az az album is, amely végképp lendületet ad a britpop-érának.
Akárhogy is nézzük, az Oasis kopogás helyett egyszerűen berúgta az ajtót és becsörtetett a Definitely Maybe-vel. Hangos volt, lendületes, arrogáns, agresszív és egyben szemtelenül slágeres. Ráadásul akadt karizmatikus frontembere is, egy bátyóval, akinek sikerült elkapnia a kilencvenes évek közepének életérzését – úgy, ahogy egy munkanélküli segélyből élő csóró manchesteri proli látja. "Vagy drogdíler leszek, vagy fogom ezt a gitárt, és kezdek vele valamit" – nyilatkozta Noel egyszer, és szerencséjére a második megoldás mellett döntött. Anglia pedig bekajálta a dalokat – szintén Noel (és a többiek) szerencséjére. Az Oasis balhéi ráadásul igen jól eladhatóak voltak, a zene és a botrányok pedig tulajdonképpen hetek alatt sztárrá tették a bandát: a Definitely Maybe minden idők leggyorsabban fogyó (és legnagyobb példányszámban eladott) bemutatkozó lemeze lett brit földön.
A sikerrecept? Lopj (bocsánat, kölcsönözz) dallamokat és témákat onnan, ahonnan csak tudsz; jöjj rá, hogy a "kistesó" nazális hangja elsöprő erejű; rakj a számokba annyi gitárt, amit a hatvanas évek óta nem hallottak; és készíts a részekről friss hangzású és zseniális újat. Noelnek alighanem élete végig "keresztje" marad a Beatleshez való hasonlítgatás, illetve az, hogy minden számnál kiderítik, hogy honnan ismerős, de még a legkritikusabbaknak is el kell ismerniük: a "kölcsönvett" részekből kitűnő dalok születtek. A reménytelen helyzetből, amelyen csak a cigi-kábszer-pia-csajok négyszög jelent felüdülést (Cigarettes And Alcohol), a brit felsőbb osztályok nemtörődömségéről (Up In The Sky), és mindenről, ami miatt érdemes álmodozni (Rock 'n' Roll Star).
Az 1994 elején még szinte teljesen ismeretlen Oasis megteremtette a saját legendáját. A Definitely Maybe mindenképpen a legjobb bemutatkozó albumok közé tartozik, amit valaha is csináltak. A manchesteri srácok a brit szigetek kedvencei lettek, mind a média, mind a közönség körében. Hogy innen volt-e út fölfelé? Az örök kritikus Noel szerint talán nem, de alighanem a többség azt mondja: a következő lemez beteljesítette a Definitely Maybe ígéretét.
/Marosi Gergely/
1.Disc
01.Rock 'N' Roll Star
02.Shakermaker
03.Live Forever
04.Up In The Sky
05.Columbia
06.Supersonic
07.Bring It On Down
08.Cigarettes & Alcohol
09.Digsy's Dinner
10.Slide Away
11.Married With Children
12.Shakermaker (Slide Up Mix)
13.Bring It On Down (Monnow Valley)
2.Disc
01.Sad Song
02.Take Me Away
03.D'Yer Wanna Be A Spaceman
04.Up In The Sky
05.Cloudburst (Acoustic)
06.Fade Away
07.Listen Up
08.Whatever
09.(It's Good) To Be Free
10.Half The World Away
11.I Will Believe
12.Supersonic (Live)
13.I Am The Walrus (Live Glasgow Cathouse June '94)
14.Columbia (White Label Demo)
15.Cigarettes & Alcohol
16.Alive (Demo)
Oasis:
Liam Gallagher – ének, csörgődob
Noel Gallagher – szólógitár, háttérvokál, zongora
Paul "Bonehead" Arthurs – ritmusgitár, zongora
Paul "Guigsy" McGuigan – basszusgitár
Tony McCarroll – dob
HOW CAN YOU REMASTER SOMETHING THATS ALREADY BEING MASTERED. DON'T BUY INTO IT. LET IT BE!
(Liam Gallagher)
https://tinyurl.com/6ewaj89u
-pastebin-
---
---
---
Találatok: 54