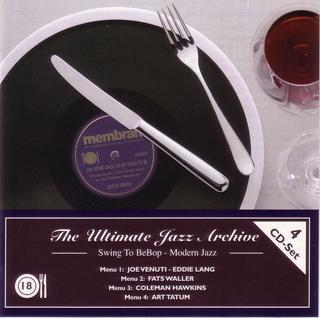 A The Ultimate Jazz Archive egy öszzesen 168 (!) lemezből álló – tehát igazán átfogónak tekinthető – válogatás, melynek tizennyolcadik része a swingtől a bebopon át vezet el minket a modern jazz világába. A mai ajánlat:  Joe Venuti – Eddie Lang,  Fats Waller, Colman Hawkins, Art Tatum 
Set 18 – CD 1: Joe Venuti és Eddie Lang
Eddie Lang (1902-1933) a jazz első igazán fontos gitárosa. Hegedűsként kezdte pályafutását, későbbi fő hangszerét édesapjától kapta, aki gitárkészítő volt. Lang már ifjan megismerkedett Joe Venutival, akivel egészen kiemelkedő minőségű zenei kapcsolatba léptek. Lang egyhúros szólóiról volt nevezetes, amelyekhez remek kíséretet adott. Működése előtt a gitárt a csak ritmushangszerként alkalmazták, ám munkássága megnyitotta az utat a tényleges szóló felé is. Rövid pályafutása alatt számos lemezfelvételt készített, amelyek klasszikusok lettek a maguk területén. Mandulaműtét következtében, 1933 márciusában hunyt el.
Giuseppe "Joe" Venuti (1903-1978) a legenda szerint azért választotta éppen a hegedűt, mert gyerekkori barátjával, Eddie Langgal pénzfeldobással döntötték el, hogy ki melyik hangszert kapja, amikor két zeneszerszámot vásároltak egy philadelphiai zálogházban. A harmincas évek folyamán Venuti számos lemezfelvételen működött közre olyan művészekkel, mint Red McKenzie, Jack Teagarden, Tommy és Jimmy Dorsey, Frank Trumbauer, Bing Crosby, Lee Wiley és a Boswell Sisters. Depresszió gyötörte, barátjának, Langnak 1933-ban bekövetkezett hirtelen halála miatt, azért rövid ideig csak ide-oda sodródott, Európába látogatott és Angliában készített lemezt, amelyen a hegedű mellett gitáron is játszott. Egész karrierje során sziporkázó ötletességgel és rendkívüli vitalitással játszott. Nagyformátumú tehetség volt, kiváló zenész, aki ha népszerűbb hangszert választott volna, jazz óriásaként lenne ma elismerve.
Tracklist:
01 – Black And Blue Bottom
02 – Stringin' The Blues
03 – Wild Cat
04 – Sunshine
05 – Goin' Places
06 – Doin' Things
07 – Kickin' The Cat
08 – Beatin' The Dog
09 – Cheese And Crackers
10 – Penn Beach Blues
11 – Dinah
12 – The Wild Dog
13 – Sweet Sue, Just You
14 – I've Found A New Baby
15 – I'll Never Be The Same
16 – Little Girl
17 – The Wolf Wobble
18 – Raggin' The Scale
Set 18 – CD 2: Fats Waller
Thomas Wright "Fats" Waller (1904-1943) amerikai jazz zongorista, orgonista, zeneszerző, énekes és komikus előadóművész. Hegedűs nagyapja és édesanyja hatására tízéves korában már diákkoncerteken zongorázott, édesapja templomában pedig orgonált. Később megnyert egy tehetségkutató versenyt, amikor James P. Johnson ragtime zongorista "Carolina Shout" című darabját játszotta. Johnson javaslatára Waller a zongorajáték Harlem stride stílusát adoptálta, ingabasszusként decimákat játszott, amelyhez még a maga sajátságos érzéseit adta. 1919-ben megkomponálta a "Boston Blues"-t, amelynek a címét később "Squeeze Me"-re változtatta, és ez lett az egyik legismertebb darabja. A húszas évek elején, amikor az Egyesült Államokban a "jazzkorszak" uralkodott és szesztilalom volt, Waller házi partik, szeszcsempész-lebujok, kabarék és vaudeville-ek keresett zongoristája volt. Sokszor mesélte, hogy az első 100 dollárját Al Caponétól kapta, aki különösen odavolt a zongorajátékáért. 1929 júniusában Waller ismét Razaffal dolgozott, a Hot Chocolates című fekete revüt írták a Broadway számára. A team egyik legmaradandóbb standardja, az "Ain't Misbehavin", amelynek instrumentális változata Waller első slágere lett. Életét a mértéktelenség jellemezte. A töméntelen mennyiségű étel és szeszes ital miatt súlya 130 és 140 kg között változott, "egyetlen bluestömeg" volt. 1943-ban Kaliforniában, a Los Angeles-i Zanzibar Clubban lépett fel, a visszafelé úton New Yorkba a Santa Fé Chief expresszvonattal utazott, amikor tüdőgyulladással Kansas City határában elhunyt.
Tracklist:
01 – Handful Of Keys
02 – The Minor Drags
03 – Smashing Thirds
04 – Do Me A Favor
05 – I Wish I Were Twins
06 – Armful O' Sweetness
07 – Have A Little Dream On Me
08 – You're Not The Only Oyster In The Stew
09 – Mandy
10 – Let's Pretend There's A Moon
11 – Honeysucle Rose
12 – If It Isn't Love
13 – I'm Growing Fonder Of You
14 – Dream Man
15 – African Ripples
16 – Alligator Crawl
17 – Viper's Drag
18 – Sugar Blues
19 – Shame! Shame! (Everybody Knows Your Game)
20 – Tell Me With Your Kisses
21 – I've Got My Fingers Crossed
Set 18 – CD 3: Colman Hawkins
Coleman Randolph Hawkins (1904-1969) a tenorszaxofon kolosszusa, és egyben a modern jazzé is. Ő fedezte fel a hangszert, mint a kifejezés komoly eszközét, és a következő hatvan esztendőben átélte az új kiterjesztéseket. Ötesztendős korában zongorázni tanult, később csellózott, majd kilencéves korában áttért a tenorszaxofonra. Az 1926-ban felvett "The Stampede" című számban hallható az első említésre méltó szólója. Megreformálta a tenorszaxofont: az inkább furcsa, különös, hang- és stílusutánzó szerepből a swing esszenciáját jelentő erőteljes és édes, kellemes, lágy szólók eszköze lett. 1937-ben találkozott Django Reinhardttal, és néhány emlékezetes hangfelvételt készttettek, amelyeken Stéphane Grappelli zongorázott. Lágy, ám mégis kemény és erőszakos tenorjátéka a modern jazz egyik csúcsa. Soundja az ötvenes években kiment a divatból, ám játékosként való erőteljessége, érzelmi nyitottsága mindig megmaradt. A hatvanas években Hawkins az új tenorsztárral, Sonny Rollinsszal játszott együtt. 1969-ben tüdőgyulladásban halt meg, ami egy korszak végét jelentette. Az utolsó nagy jazzmesterek egyike volt, akinek életműve átfogta a zenetörténet egészét.
Tracklist:
01 – Hello, Lola
02 – If I Could Be With You One Hour Tonight
03 – Dismal Dan
04 – I Can't Believe That You're In Love With Me
05 – Jamaica Shout
06 – Rhythm Crazy
07 – It Sends Me
08 – I Ain't Got Nobody
09 – On The Sunny Side Of The Street
10 – Lullaby
11 – Oh! Lady Be Good
12 – Lost In A Fog
13 – Honeysuckle Rose
14 – Some Of These Days
15 – After You've Gone
16 – I Wish I Were Twins
17 – Blue Moon
18 – Avalon
19 – What A Difference A Day Makes
20 – Stardust
21 – Chicago
22 – Meditation
23 – What Harlem Is To Me
24 – Netcha's Dream
Set 18 – CD 4: Art Tatum
Art Tatum (1909-1956), amerikai dzsessz-zongorista, a közvélekedés szerint a dzsessztörténet legnagyobb virtuóza. Zenészcsaládban született. Egyik szemére vak volt, a másikkal csak részlegesen látott. Sohasem végzett szabvány zongoratanulmányokat, és kottát olvasni sem tanult, de tinédzserévei közepén Toledóban már profi lett. Káprázatos rögtönzései jazz- és klasszikus témákra, de főként a korabeli népszerű slágerekre, legendássá váltak, és olyan mércévé lettek, melyhez csak nagyon kevés utóda munkássága mérhető, de felülmúlni senki sem tudta. Egyedülálló szólózongora-stílust fejlesztett ki, lélegzetelállító futamokat játszott, közbeszúrva egyes erősen kihangsúlyozott hangokkal, és olykor váratlan akkordokkal. Erőteljes balkéz játékának motívumait a nagy hangközfogások jellemzik, miközben ezzel párhuzamosan a hagyományos billentűtechnika határait minden más jazz-zongoristánál jobban kiterjesztette (de a zene más területeit figyelembevéve is csak igen kevesen voltak erre képesek). Egy olyan játékos megoldást is előszeretettel alkalmazott, amely avatatlan kezekben nagyon is idegesítő, de nála stílusának egyedülálló eszközévé vált: zongorajátéka közben gyakran idézett más melódiákból, és ezeket beleszőtte az éppen játszott darabba. Egész karrierje során folytatta technikájának tökéletesítését, de lemezfelvételein nehéz lenne felfedezni bármilyen jelet arra, hogy játéka valaha is ne lett volna rendkívül csiszolt és kiegyensúlyozott. A "zseni" kifejezést gyakran osztogatják könnyelműen, de Tatum értékelésére és annak a módszernek a jelentőségére, amellyel a jazz-zongorás képzeletbeli határait kiterjesztette, nehéz lenne olyan szót találni, mely ennél helyénvalóbb lenne.
Tracklist:
01 – Tea For Two
02 – Sophisticated Lady
03 – What Will I Tell My Heart
04 – I've Got My Love To Keep Me Warm
05 – The Sheik Of Araby
06 – Stormy Weather
07 – Gone With The Wind
08 – I'll Get By
09 – It Had To Be You
10 – Tiger Rag
11 – Get Happy
12 – Sweet Lorraine
13 – St. Louis Blues
14 – Begin The Beguine
15 – Indiana
16 – Rosetta
17 – Stompin' At The Savoy
18 – Battery Bounce
Külön köszönet baljan-nak e különleges válogatás megosztásáért és az eredeti feltöltésért!
http://tiny.cc/lgjqtz
Találatok: 7