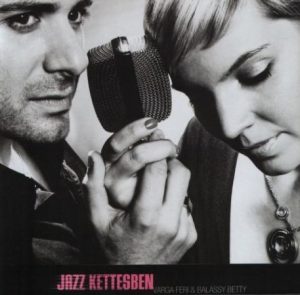 "Jól sikerült kapcsolat nemcsak magánéletben (hiszen házaspárról van már szó), hanem zeneileg is a Varga Ferié és Balássy Bettyé. A két énekes, mint jól tudjuk, a Megasztárban ismerkedett meg, ahol Feri mint versenyző szerepelt, Betty pedig mint vokalista. Azóta 2007-ben már megjelent bemutatkozó közös lemezük, az Ébredni valakiért, amely egy változatos, jó munka volt. Most pedig egyszerre két albumot is kiadtak egymás után: az egyik a dzsessz-vonalat követi, míg a másik populárisabb vizekre evez.
A most itt recenziózott lemez az előbbi, dzsesszes stílusú, a Jazz kettesben. A nagyon szép, meghitt, fekete-fehér fotóval díszített borító már maga is azt hirdeti, hogy itt most olyan felvételeket hallunk többségében, amelyek dzsessz-standerdek, dzsessz-gyöngyszemek feldolgozását tartalmazzák. És már az elején szögezzük is le, hogy bár közös album született, de túlnyomórészt Betty énekel ezen a lemezen. Ami nem is csoda, hiszen őhozzá állt és áll közelebb ez a műfaj, a pályájának első sikereit is dzsesszvonalon érte el, amelyet nemzetközi díjak, elismerések is bizonyítanak. Mindez egyben azt is jelzi, hogy Ferinek bizony elég nagy utat kellett megtennie, egyben sokat gyakorolnia és tanulnia ahhoz, hogy a dzsesszéneklés technikáját magáévá tegye, elsajátítsa. A lemezt meghallgatva azonban kiderül, hogy ez nagyon jól sikerült neki." Baranyi György cikke, szoljon.hu
A lemezt Jucco 2011-ben küldte meghallgatásra.
Kedves Jucco, nagyon szépen köszönjük!
A számok:
1. Makin' Whoopie
2. Rendezvous
3. Have You Met Miss Jones?
4. Never Too Late
5. Én
6. Quizas, Quizas
7. Tengo Que Decirte Algo
8. You Go To My Head
9. Ó kedves
10. Orange Colored Sky
11. Csillagok, csillagok
12. Windmills Of Your Mind
A zenészek: Dobok: Kaszás Péter, zongora: Cseke Gábor, fúvósok: Csejtei Ákos, Ducsai Szabolcs, szájharmonika: Pribojszki Mátyás, szájdob: Kovács Antal, gitárok: Dandó Zoltán, Dajka Krisztián, hangszerelés, Zenei producer: Szabó Zé, vokál: Balássy Betty, Farkas Zsófi, Varga Feri.
https://ouo.io/6zwFK94
Találatok: 4