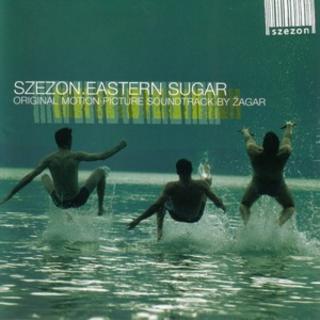 Zságer Balázs a saját zenekarával a Szezon című film zenei anyagából állított össze egy albumot. A 2004-es év legjobb magyar filmzenéje önállóan – film nélkül – is élvezhető. Nyugati színvonalú anyag keleti ízekkel. A billentyűs-programozó-producer Zságer (akit a bluesos számokban még szájharmonikázni is hallunk) nemcsak saját hangzásba olvasztotta mindezt, de a film zenei témáiból, atmoszféráiból önállóan is működő számokat, azokból pedig önállóan is működő albumot szerkesztett. A zeneanyagba – remek érzékkel – a filmbeli dialógusokból is beillesztettek részleteket, a szépségkirálynő-választás jelenetét aláfestő Miss Balaton egy house-osabb remix formájában is hallható a lemezen, sőt felkerült egy új, a filmben nem szereplő szám is, a Getting Into Trouble.
A film tartalma: 2003 nyarán három huszonéves fiatal – Guli, Virág és Nyéki Peti – tengődik Karcagon, a kelet-magyarországi kisvárosban. Néhány éve végeztek Debrecenben, most a Flash nevű diszkóban dolgoznak pultosként. A történet főszereplője Guli, nehezen találja helyét a sivár kisvárosi közegben. Miután Gulit kirúgják a diszkóbol, az alföldi fiúk nekivágnak az országnak. Csupán egy dolog fontos nekik: történjen már valami. Csakhogy fogalmuk sincs arról, hogy mi ez a valami, aminek történnie kellene. Elindulnak a Balatonra, hátha ott megtalálják, amit keresnek.
Tracklist:
01 – Train
02 – Eastern Sugar (feat. György Ligeti)
03 – Karcag Blues
04 – Where an other Sun Shines (feat. György Ligeti)
05 – Miss Balaton
06 – Just for Fun (feat. Sena)
07 – Party Animals
08 – Miss Balaton (House Vibes Mix)
09 – En Deux
10 – Hol van az a nyár (feat. Edina Kuczora)
11 – Getting into Trouble
12 – Boat of Your Dream
https://tinyurl.com/y7brcq5v
Ha kicsomagolásnál jelszót kér, írd be a Zenekucko szót a megfelelő helyre.
Találatok: 4