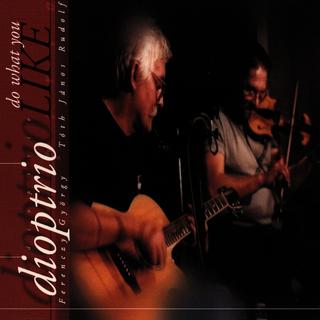 Két nagy formátumú muzsikus, két pesterzsébeti szomszéd és barát, aki mögött e lemez felvétele idején már egyaránt jelentős zenei múlt állt. Amúgy két generációt képviselnek: a gitáros-énekes Tóth János Rudolf 1950-ben, a szájharmonikás-hegedűs-énekes Ferenczi György 1968-ban született.
Ferenczi és Tóth még a kilencvenes évek derekán kezdtek duóban zenélgetni, kifejezetten a maguk szórakoztatására. Szép lassan alakult ki a mintegy negyven, elsősorban soul, blues és rhythm & blues feldolgozásokat tartalmazó repertoárjuk. Barátaik meghívására aztán egyre többet léptek fel a nyilvánosság előtt is. A Dioptrio elnevezést a két muzsikus erősen csökkent látóképessége szülte, így a világ legkisebb "triójaként" indultak, de később csatlakozott a hétdioptriás kürtös, Bizják Gábor és így már valóban rászolgáltak a nevükre.
A Dioptrio után sajnos egyetlen hanghordozó maradt, pedig ez az egy igen biztató és erős volt. A Dr. Valter and the Lawbreakers szervezte III. Bluespatika fesztiválon 2000. október 13-án adott koncertjük rezüméje került az albumra, minden utólagos rájátszás nélkül. Jól ismert soul és rhythm & blues dalok hallhatók itt, közel sem megszokott feldolgozásban, Tóth szenvedélyes-reszelős énekét és energikus gitározását remekül egészíti ki Ferenczi ízes harmonika- és hegedűjátéka.
Ferenczi György – harmonika, hegedű, ének
Tóth János Rudolf – gitár, ének
Tracklist:
01 – Do What You Like
02 – Red House
03 – Spill the Wine
04 – Big Boss Man
05 – After Midnight
06 – Who Knows
07 – Barabajagal
08 – All Around the World
09 – Norwegian Wood
10 – Hoochie Coochie Man
https://tinyurl.com/yceswra8
Ha kicsomagoláskor jelszót kér, írd be a Zenekucko szót a megfelelő helyre.
Találatok: 8