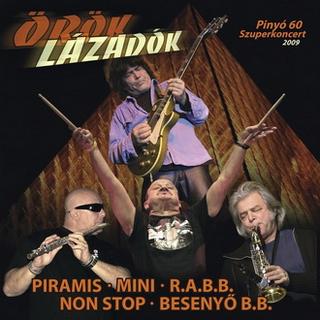 Kettős ünnep 2009-ben, 40 éve kezdődött a pályafutása és 60 éves az a legendás dobos, Köves Miklós Pinyó, aki összeköti a Non Stop, a Piramis és a Mini nevét, de pályafutása során a R.A.B.B. és a Besenyő Blues Band sorait is erősítette és teszi ezt a mai napig. 2009. január 17-én Budapesten a Petőfi Csarnokban egykori és mai zenésztársai és a kitartó, hálás, zeneértő közönség tette ünnepivé Pinyó születésnapját. Ott volt mindenki, akiből nem kopott ki a lázadás szelleme, akik szeretik és értik az igényes zenét és érzik, hogy jó néhány órán keresztül hasonlóan gondolkodók táraságában visszaidézni a múltat és feltöltődni a hétköznapokra. Ennek a felejthetetlen estének a lenyomata az Örök lázadók – Pinyó 60 DVD és CD. Fellépett a Piramis, a Mini, a Non Stop, a R.A.B.B., a Besenyő Blues Band, tagjaik között olyan zenészlegendákkal, mint Somló Tamás, Victor Máté, Závodi János, Török Ádám, Gallai Péter, Németh Károly, Muck Ferenc, Mohai Tamás, Paróczai Attila, Zsoldos Tamás és a többiek…az örök lázadó rockerek!
Tracklist:
01 – Alligátor (Mini)
02 – Lélegző, furcsa hajnalon (Non Stop)
03 – Fekete csend (Non Stop)
04 – Szép Margit (Non Stop)
05 – Emelj fel a szívedig (Piramis)
06 – A szerelem ördöge vagyok (Piramis)
07 – Szállj fel magasra (Piramis)
08 – Szivatódal (Besenyő Blues Band)
09 – Pinyoz Nightflys (Besenyő Blues Band)
10 – Örök lázadó (RABB)
11 – Újra rock and roll (RABB)
12 – Sziget '96 (RABB)
13 – Éjszakai harcos (Mini)
14 – Blues idők jönnek megint (Mini)
Köszönet a Naftamusic-nak az eredeti feltöltésért!
https://zenekucko.com/orlapi60
Ha kicsomagoláskor jelszót kér, írd be a Zenekucko szót a megfelelő helyre.
Találatok: 6