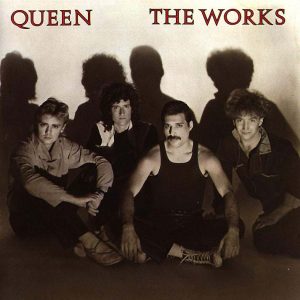 1982-ben a Queen kihozta talán leggyengébb soralbumát, a Hot Space-t, és ezúttal a reakcióknak hála a következő lemez esetében új vizekre eveztek. Ennek eredménye a rendkívül egységes, gitár- és szintetizátororientált, The Works lemez, mely koncertdalok egész armadáját hozta magával. Az album egy részét Los Angelesben, a másikat Münchenben vették fel, (mert akkoriban az adóterhek miatt kevesebbet dolgoztak Angliában). A közös munka még a szokásosnál is nehezebben ment, eleve feszültek voltak a teljesítménykényszer miatt, és rengeteget veszekedtek a dalszerzésen, valamint a hangzáson.
A dalaik hangszerelése leegyszerűsödött, még slágeresebb lett, és egyre többet támaszkodtak a modern szintetizátorok képességére, első alkalommal pedig külsős zenészt is alkalmaztak, Fred Mandel zongoristát. Ezt a korabeli kritika is kiemelte, tovább hozzátette azt is, hogy mondanivalóban a Queen a 70-es évek eleje óta nem beszélt ennyire komoly dolgokról, és ez az új zeneiséggel együtt mennyire kiváló összképet alkotott. A The Works lendülete egyenes utat mutatott a Live Aid sikerhez is.
A korabeli kritika olykor elég mostohán bánt a Queen zenéjével, mégis zenészek egész armadája üdvözli őket legfőbb hatásukként, legyen szó a zenei komplexitásról, a színpadi technikáról, a színpadi jelenlétről, a közönséggel való bánásmódról. Freddie Mercury is megfogalmazta egyszer, hogy ő nem olyan, mint John Lennon, aki minden egyes dalszövegével tanítani akart, elmondani valamit. Freddie és a Queen csak zenélni akart, semmi mást, és a zenéjével örömet szerezni. Kevés olyan banda akadt, mely olyan játékosan mert bánni a különböző zenei hatásokkal, mint a Queen, és zenéjük halhatatlanságát valahol ez is biztosítja, másrészt, Freddie Mercury az egyik nagyobb rockénekes.
1. Radio Ga Ga
2. Tear It Up
3. It's a Hard Life
4. Man on the Prowl
5. Machines (Or 'Back to Humans')
6. I Want to Break Free
7. Keep Passing the Open Windows
8. Hammer to Fall
9. Is This the World We Created…?
Freddie Mercury: lead and backing vocals, piano, keyboards, sampler on "Radio Ga Ga"
Brian May: lead and acoustic guitars, backing vocals, keyboards, lead vocals on bridge of "I Go Crazy"
Roger Taylor: drums, electronic drums, backing vocals, keyboards on "Machines (Or Back to Humans)", Vocoder on "Radio Ga Ga" and "Machines (Or Back to Humans)", sampler and programming on "Radio Ga Ga"
John Deacon: bass guitar, rhythm guitar, backing vocals, keyboards and programming on "I Want to Break Free"
Additional personnel:
Fred Mandel: keyboards on "Radio Ga Ga", "I Want to Break Free" and "Hammer to Fall", piano on "Man on the Prowl"(ending), sampler on "Radio Ga Ga"
Reinhold Mack: Fairlight CMI programming on "Machines (Or Back to Humans)", engineering
 https://links.snahp.it/ZbAzp2mr5Od7W4RgWLZN2IRXdNWxN0rjBRE

---
---
---
Találatok: 1