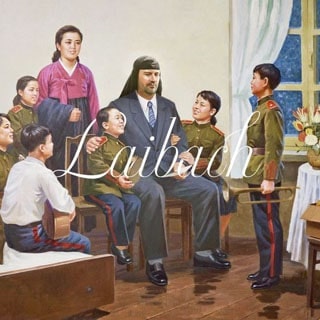 A Laibach csinált egy nagyon jó albumot. …
The Sound of Music was conceived when Laibach were infamously invited to perform in North Korea in 2015. The band performed several songs from the 1965 film's soundtrack at the concert in Pyongyang. The Sound of Music was chosen by Laibach as it's a well-known and beloved film in the DPRK that is often used by schoolchildren to learn English. Laibach are joined by Boris Benko (Silence) and Marina Mårtensson on vocals. The album gives the Laibach treatment to tracks such as "My Favorite Things," "Edelweiss," "Do-Re-Mi" and "Maria," here reworked as "Maria / Korea" ("How do you solve a problem like Maria / Korea?").
While the majority of the tracks on the album are from the film, the band also included "Arirang," an interpretation of a traditional Korean folk song considered the unofficial national anthem of both North and South Korea (and released recently to mark the historic summit in Singapore between Donald Trump and the leader of North Korea, Kim Jong-un). Also included is their own workout of the Gayageum, a traditional Korean zither-like string instrument performed by students from the Kum Song Music School in Pyongyang and a recording of the band's "welcome" speech to Korea from Mr. Ryu from the Democratic People's Republic of Korea Committee for Cultural Relations.
The album was recorded and produced in Ljubljana, Slovenia and in Pyongyang, North Korea. It represents another successful collaboration between Laibach and Silence (Primož Hladnik and Boris Benko), who previously co-created Laibach's 2006 Volk album.
Over 35 years on from their genesis in the then-Yugoslavian industrial town Trbovlje, Laibach are still the most internationally acclaimed band to have come out of the former Communist countries of Eastern and Central Europe. Founded in the death year of the country's founding father Tito, and rising to fame as Yugoslavia steered towards self-destruction, Laibach can make you think, dance and march to the same music.
01 – The Sound of Music
02 – Climb Ev'ry Mountain
03 – Do-Re-Mi
04 – Edelweiss
05 – My Favorite Things
06 – The Lonely Goatherd
07 – Sixteen Going On Seventeen
08 – So Long, Farewell
09 – Maria/Korea
10 – Arirang
11 – The Sound of Gayageum
12 – Welcome Speech
https://links.snahp.it/RxvMjuDfGi7MObGQ4iCbiRbgQgOQGsOLV85
---
---
---
Találatok: 4