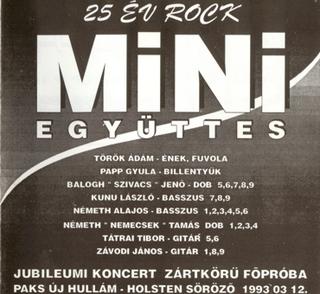 A Mini együttes a köztudatban mindig is jazz-rock formációként élt, de underground, rhythm and blues zenekarként indult. 1968-ban az Ifjúsági Magazinban ezen a néven még egy trió látható: Czipó Tibor (gitár), Kiss Zoltán (basszusgitár), és Dobos "Doxa" Sándor (dob). Ez a formáció nagyon rövid ideig létezett, tavasz végén csatlakozott hozzájuk a későbbi "főnök" Török Ádám (ex-Dogs), és Závodi János (ex-Stardust), Czipó pedig basszusgitárra váltott.
Az együttesnek ez a felállása 1969 augusztus 26.-án a Sakk-Matt törzsközönsége előtt mutatkozott be az Ifjúsági Parkban, ahol Troggs, Jimi Hendrix és a Who dalait, illetve saját dalaikat viharos siker fogadta. Néhány hét alatt elismert zenekarrá váltak, és a Syrius Csanády utcai klubja mellett, 1969 őszén a Bem rakparton megnyíló Mini klub lett a rockerek és a hippik egyik törzshelye, ahol a kezdeti rhythm and blues korszak után hamarosan megismertette híveit a jazz-rockkal is.
Ez  lemez a fennállásuk 25. évfordulóján megtartott jubileumi koncertjük főpróbájának felvételeit tartalmazza.
basszusgitár – Kunu László (tracks: 7 to 9), Németh Alajos (tracks: 1 to 6)
dob – Balogh "Szivacs" Jenő (tracks: 5 to 9), Németh Tamás (tracks: 1 to 4)
fuvola, ének – Török Ádám
gitár – Tátrai Tibor (tracks: 5, 6), Závodi János (tracks: 1, 8, 9)
billentyűk – Papp Gyula
Tracklist:
01 – Én akarlak
02 – Délelőtt
03 – Kereszteslovag
04 – Éjféli találkozás Béla bácsival a csíki havasok alatt 1939/93 június 29-én
05 – Apák és fiúk
06 – Asztalhoz leültem
07 – Szabad tangó
08 – Kell a barátság
09 – Gőzhajó
https://tinyurl.com/ycaw6qud
Ha kicsomagoláskor jelszót kér, írd be a Zenekucko szót a megfelelő helyre.
Találatok: 7