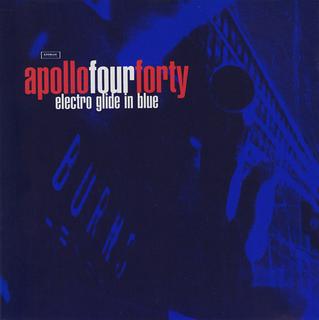 Az Apollo 440 vagy Apollo Four Forty egy elektronikus zenét játszó brit együttes, a kilencvenes évek végén bekövetkező nagy elektronikus zenei forradalom egyik "zászlóshajójának" tekinthető. Különösen a kritika által később az "elektronika" – azon belül, a "big beat" – műfaji címkékkel jelölt irányzat előfutárának tekinthetőek, együtt a Chemical Brothers, a Fatboy Slim, vagy a The Prodigy zenekarokkal. Stílusuk több különböző irányzat jegyeit viseli magán: a rave, az alternatív rock, a big beat, a techno és a punk elemek is keverednek az elektronikus hangzásban.
Az Apollo 440 együttest a Howard és Trevor Gray testvérpár, valamint Norman Fisher-Jones, alias Noko gitáros alapították Liverpool városában 1990-ben. A hangtechnikus Howard és a klasszikus zongora-tanonc Trevor olyan új zenei termék létrehozására törekedtek, mely igyekezett az erőteljes gitárhangzást ötvözni a kor elektronikai irányzataival. Ehhez elsőként különböző elismert zenekarok remixeit készítették el, így többek között az ír U2 vagy az EMF számára készítettek új hangzásvilágú remixeket.[1]
A zenekar számára az igazi áttörést az 1996-os kislemez, a Krupa hozta meg, melyhez nemcsak nevében, de ritmusaiban és dobszólóiban idézték meg Gene Krupa egykori jazz-dobost, aki az 1930-as években többek között Benny Goodman mellett is működött. A következő nagy dobást az "Ain't Talkin' 'Bout Love" című szám jelentette, mely a Van Halen egyik legendás gitár-témáját öltöztette drum and bass köntösbe.
Tracklist:
01 – Stealth Overture (feat. Elizabeth Gray)
02 – Ain't Talkin' 'Bout Dub
03 – Altamont Super-Highway Revisited
04 – Electro Glide In Blue
05 – Vanishing Point
06 – Tears Of The Gods
07 – Carrera Rapida (Theme From Rapid Racer)
08 – Krupa
09 – White Man's Throat
10 – Pain In Any Language (feat. Billy MacKenzie)
11 – Stealth Mass In F#m (feat. Elizabeth Gray)
Külön köszönet TT_1-nek a lemezért és az eredeti feltöltésért!
https://tinyurl.com/y34qvzgn
Találatok: 5