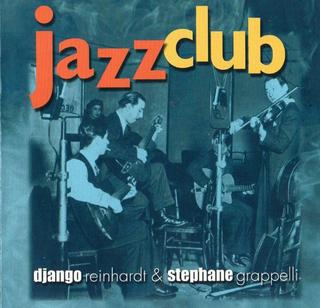 Stéphane Grappelli (Párizs, 1908. január 26. – Párizs, 1997. december 1.) francia dzsesszhegedűs. A '30-as évek elején találkozott Django Reinhardttal, 1934-ben létrehozták a Quintette du Hot Club de France-ot.
Grappelli és Reinhardt egy véletlennek köszönhetően találkoztak. Felkértek 14 zenészt, hogy egy este egy hotelben játsszanak. Az egyik szünetben Django leült egy sarokba és gitározni kezdett. Nemsokára beszállt Grappelli is. Az így kialakult hangzás mindkettőjük tetszését elnyerte, ezért ezután gyakrabban összejártak zenélni. Végül bőgő (Louis Vola), ritmusgitár (Roger Chapu, Joseph Reinhardt), szólógitár (Django Reinhardt) és hegedű (Stéphane Grappelli) felállásban megalakult a quintett. Az egyik első, csak húrosokból álló dzsesszegyüttes hegedűs, bőgős és három gitáros felállásával a harmincas évek egyik legnépszerűbb európai dzsessz-zenekara lett. Egy kisebb kiadó, az Ultraphone jelentette meg az első felvételeket, olyan híres dalokkal, mint a Dinah, Tiger Rag, az Oh Lady be good, vagy az I Saw Stars. Ezek voltak azok a felvételek, amelyek merőben új hangzásvilágával és érzetével elnyerte az emberek tetszését. A kvintett olyan óriási hatással volt a zenei világra, hogy a mai napig alakulnak együttesek a Hot Club nyomdokaiba lépve.
Ez a felállás 1939-ben a második világháború kitörése előtt feloszlott, Grappelli Londonba költözött, ahol George Shearing vak zongoristával játszott együtt. A háború után Django Reinhardttal újjáélesztették a Quintette du Hot Club de France-ot; 1951-ig zenéltek együtt, ekkor Django Reinhardt visszavonult.
Tracklist:
01 – Swing From Paris
02 – China Boy
03 – I'm Confessin
04 – Moonglow
05 – The Sheik Of Araby
06 – St Louis Blues
07 – Daphne
08 – I Got Rhythm
09 – It Don't Mean A Thing
10 – Limehouse Blues
11 – Runnin Wild
12 – The Sunshine Of Your Smile
13 – Sweet Georgia Brown
14 – Lambeth Walk
15 – Swing 39
16 – Night & Day
17 – It Was So Beautiful
18 – Three Little Words
Külön köszönet Nagygazemberimi-nek a lemezért és az eredeti feltöltésért!
https://tinyurl.com/y29shyez
Találatok: 3