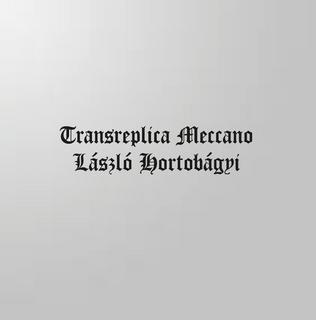 Hortobágyi László a kortárs magyar elektronikus zene egyik fontos alakja és úttörője. Az 1988-ban megjelent Transreplica Meccano című utópisztikus nagylemeze most az amszterdami Lullabies for Insomniac kiadó kezében jelenik meg átdolgozott formában, ami remek alkalom arra, hogy belekóstoljunk Hortobágyi elvarázsoló világába.
Alig volt tizenhét éves, amikor 1967-ben már expedíciókat és gyűjtőutakat szervezett elsősorban Észak-India területére, ahol helyszíni hangfelvételeket készített, könyvtárakban, archívumokban és hangtárakban kutatott, illetve a helyi zenei gyakorlatok elsajátításán dolgozott. Gyűjtései örökre meghatározták nem csak zenei érdeklődésének irányát, de világlátását is. Hosszú évtizedek munkája alatt óriási tudást halmozott fel, amit többek között zenetudományi és elméleti publikációkban, egy egyedülálló hangtár létrehozásában és a zeneszerzésben kamatoztatott. A Transreplica Meccano a mind a mai napig aktív Hortobágyi korai lemezei közül való. Az 1988-ban felvett majd 2006-ban újradolgozott albumon az olyan hagyományos indiai hangszerek, mint a tabla vagy a szitár egy egységet formálnak a modern nyugati hangszerekkel, mint a szempler vagy a szintetizátor. 
Hortobágyi érzékletes hangszerelése, dalszerkezetei és az ezek mögött rejlő átfogó, éleslátó víziója elérik, hogy egy olyan, korábban sosem létezett lélegző és lüktető összhang jöjjön létre ezek között az eltérő kultúrák között, aminek saját múltja, jelene és jövője is van.
Az ilyen új világok irányába tett expedíciókra pedig talán nagyobb szükség van most, mint eddig bármikor. Hortobágyi azt mondja, a gyűjtései során a népzenékben az emberiség közös és mögöttes nyelveit és nyomorúságát érezte meg. Lemezei nem csupán rámutatnak a minket körülvevő társadalmak és szabályok hibáira, de egyszerre a lehetséges kiutakat is fürkészik. Ez az, amiért igazán érdemes figyelni Hortobágyi hangjára.
Tracklist:
01 – Intra Sútra
02 – Culture Of Bass
03 – Organix
04 – Cathedral Of Reptiles
05 – Nono Bol
06 – Mirage
07 – Kiráņá Báj-Ki Baroque
08 – Balinese Gat
09 – Harmological
10 – Vocablá Rája
11 – Pravonix
https://tinyurl.com/y352pf7w
Ha kicsomagoláskor jelszót kér, írd be a Zenekucko szót a megfelelő helyre.
Találatok: 6