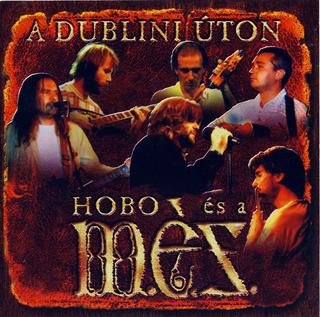 A M.É.Z. zenekar 1988-ban alakult. Az ekkor még Magyarországon ismeretlen skót-ír népzenét kezdte el játszani. Az évek során fokozatosan kialakult a M.É.Z. önálló zenei arculata, s a nagy elődök nyomán (Dubliners, Pogues, Jethro Tull) elindult egy egyéni kifejezésforma felé.
A kelta zenei világ mérhetetlenül gazdag zenei nyersanyagot kínál. A M.É.Z. zenekar ezt a nyersanyagot ötvözi az egyes tagok által hozzáadott stíluselemekkel. Az 1998-ban megjelent albumon Hobo közreműködésével és szövegeivel magyar nyelven adnak ízelítőt zenéjükből.
Tracklist:
01 – Paddy, vasúti munkás (Paddy works on the Railway)
02 – Bányászballada (Springhill)
03 – Rosie Mcgann (Star of the County Dawn)
04 – Te leszel a párom (Madame I'm darling)
05 – Regatta
06 – A híres vándor (The rambler from clare)
07 – A dublini úton (Rocky road to dublin)
08 – Jack, az ezermester (Dublin Jack of all trades)
09 – Volt egyszer kedvesem (Once I Had a Sweetheart)
10 – Tánc (The Musical Priest)
11 – Tékozló fiú (Wild Rover)
12 – Vadorzók dala (The Eynsham Poachers)
13 – Szerelmes ének (P stands for Paddy)
14 – Fenn a hegyvidéken (Hills of Connemara)
15 – Wellington tánca (Wellington's Advance)
Külön köszönet Nagygazemberimi-nek a lemezért és az eredeti feltöltésért!
https://tinyurl.com/yyquqtzn
Ha kicsomagoláskor jelszót kér, írd be a Zenekucko szót a megfelelő helyre.
Találatok: 12