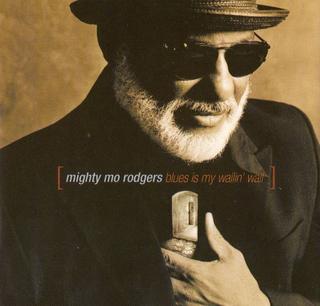 Önmagában is kuriózum: Mighty Mo Rodgers ötvenhét évesen készítette el első szólólemezét. Ráadásul a Blues Is My Wailin' Wall (A blues az én Siratófalam) az 1999-es év egyik legerősebb és legeredetibb bluesalbuma lett. Kritikusok tömege kapta fel ekkor a fejét, ki ez az ősz szakállú, kalapos, napszemüveges fickó, aki a borítón elnéz mellettünk, mit csinált az elmúlt negyven évben, mire ez az anyag felszínre tört belőle. És akkor jött az újabb meglepetés: az indianai születésű, később Los Angelesben letelepedett zongoristaénekes az elmúlt négy évtizedet végig a zeneiparban húzta le, keresett sessionzenész volt, majd producerként kereste a kenyerét, illetve ősz fejjel filozófiából diplomázott.
Mighty Mo Rodgers már nem Délen, a gyapotföldeken, hanem fenn, Északon, az Indiana állambeli acélvárosban, East Chicagóban született, és szülei klasszikus zongoraművészi pályára szánták, így ötéves kora óta Bach és Beethoven világában élt. Igaz, késő tinédzserként már a helyi éjszakai klubokat járta, egyre erősebben hatott rá a blues és a jazz, annyira, hogy húszas évei kezdetén megalapította a Rhythm & Blues dalokat játszó The Maurice Rodgers Combót. Aztán váltott egyet és áttette székhelyét Los Angelesbe, ahol TBone Walker, Albert Collins, Jimmy Reed mellett zongorázott sokat, illetve különböző népszerű csapatok oldalán vállalt alkalmi munkát, az ő orgonajátéka hallható többek között Breton Wood 1967-es slágerén, a Gimme Some Kind Of Signon. Aztán inkább producerségre adta a fejét, többek között Sonny Terry és Brownie McGhee lemezei körül serénykedett, majd filozófiai tanulmányokat folytatott és szakdolgozatát a "Blues mint metafizikai zene" témakörben írta meg.
Bár korosodó fejjel egyre inkább a múlt kezdte érdekelni, Mighty Mo Rodgers sosem lett ortodox bluesista, számára ez a "szájhagyomány útján öröklődő testamentum" nem múzeumi tárgy, hanem nagyon is élő matéria. Funkytól, soultól, ritmustól duzzadó dalai ennek megfelelően ezerféle hatást tükröznek, dióhéjban mindaz bennük van, amit a blues az elmúlt száz évben magába szívott Amerikában. ~ Jávorszky Béla Szilárd (jbsz.hu)
Tracklist:
01 – Blues Is My Wailin' Wall
02 – Took Away The Drum
03 – Heaven's Got The Blues
04 – No Regrets
05 – Tuskegee Blues
06 – No Dough
07 – The Kennedy Song
08 – (Bring Back) Sweet Soul Music
09 – Willie B. And Me
10 – Gone Fishin'
11 – Shame!
Külön köszönet Nagygazemberimi-nek a lemezért és az eredeti feltöltésért!
https://tinyurl.com/y4f6wwkc
Találatok: 2