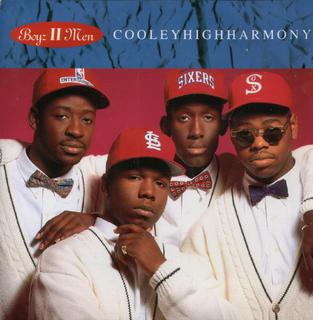 A Boyz II Men egy amerikai R&B együttes. A bandát Nathan Morris, Wanya Morris és Shawn Stockman alkotják. Az együttes eredeti felállásában Michael McCary is benne volt, de ő 2003-ban egészségügyi okok miatt kiszállt a bandából. Az 1990-es években lettek világhíresek, amikor megjelent az első daluk az End of the Road 1992-ben. A dal rengeteg nemzetiközi zenei lista vezető slágere lett és ezzel sikerült beleirniuk magukat a zene történelmébe. Csillagot is kaptak a hollywoodi Hírességek Sétányán. A hollywoodi ünnepségen producerük, Terry Lewis méltatta a zenészeket: "a zene a szenvedélyük, repertoárjuk nem ismer határokat". Mintegy hatvanmillió eladott lemezével a Boyz II Men a legsikeresebb r'n'b formáció. A tagok 1988 óta vannak együtt, egy középiskolába jártak Philadelphiában. Első lemezük címe is a gimnáziumuk nevére utal.
Tracklist:
01 – End Of The Road (LP Version)
02 – Please Don't Go
03 – Lonely Heart
04 – This Is My Heart
05 – Uhh Ahh (Sequel Version)
06 – It's So Hard To Say Goodbye To Yesterday (Original Version)
07 – Motownphilly (Remix Radio Edit)
08 – Under Pressure
09 – Sympin (Remix Radio Edit)
10 – Little Things
11 – Your Love
12 – Motownphilly (Original Version)
13 – Sympin (Original Version)
14 – Uhh Ahh (Original Version)
15 – It's So Hard To Say Goodbye To Yesterday (Radio Version)
Külön köszönet TT_1-nek a lemezért és az eredeti feltöltésért!
https://tinyurl.com/yxgrf9f7
Találatok: 1