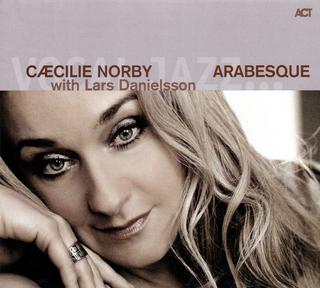 Cæcilie Norby (1964) karrierjét alapvetően meghatározza a tény, hogy operaénekesnő anya és zeneszerző apa gyermekeként nőtt föl, így egész zenei lénye komolyzenével átitatott, képzettségéről nem is beszélve. Karrierje mégis rendkívül szélesvásznú, olyan popzenkarokban indult a nyolcvanas években, mint a Frontline majd a One Two, 1995-ben pedig megjelent első jazzlemeze, amely saját nevét viselte. Több fajsúlyos együttműködés is kötődik a nevéhez, zenélt Chick Coreával, Mike Sternnel és Bugge Wesseltofttal is. Legtermékenyebb együttműködése Lars Danielssonhoz (1958) köti, aki nem csak az egyik legkiválóbb svéd nagybőgős, csellista és zeneszerző, de történetesen az énekesnő férje is. Kettejük kamaraprodukciója elsősorban Cæcilie 2011-es Arabesque és 2013-as Silent Ways című anyagából épül fel. Előbbin olyan zeneszerzők munkáiból indulnak ki, mint Ravel, Debussy vagy Erik Satie. Utóbbin pedig a fent emlegetett nagy zeneszerzők művei mellett olyan dalok is szerepelnek a két zenész feldolgozásában, mint Duffy Stepping Stone című balladája. Ők ketten nem egyszerűen jazzesítenek klasszikus- és popslágereket, hanem egy sajátosan légies, tiszta, a jazz, a komolyzene és a pop határait könnyű kézzel összemosó felfogásban adják elő azokat. Norby nyugodt, szinte mozdulatlan színpadi jelenléte és azzal kontrasztot alkotó játékos,
mozgékony hangját férje elegáns, gazdag csellójátéka olyan élménnyé teszi, amit a koncert után sokáig hordunk még magunkban, és felidéződik majd akkor is, ha az itt előadott dalok eredetijébe botlunk. Mert a skandinávok akkor is jók ebben a műfajban, amikor épp nem hűvös és elektronikus jazzt játszanak.
Tracklist:
01 – The Dead Princess
02 – Wholly Earth
03 – No Air
04 – No Phrase
05 – Bei Mir Bist Du Schöen
06 – The Tears Of Billie Blue
07 – Women Of Santiago
08 – Pavane Opus 50
09 – Scheherazade
10 – I Will Say Goodbye
11 – Simple Theme
12 – Hvirvelvinden
13 – Forever You
14 – Nocturne
15 – How Oft
Külön köszönet Nagygazemberimi-nek a lemezért és az eredeti feltöltésért!
https://tinyurl.com/y2j8rbxm
Találatok: 4