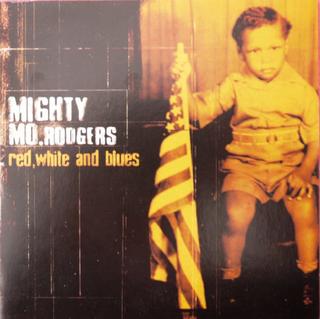 Önmagában is kuriózum: Mighty Mo Rodgers ötvenhét évesen készítette el első szólólemezét. Ráadásul a Blues Is My Wailin' Wall (A blues az én Siratófalam) az 1999-es év egyik legerősebb és legeredetibb bluesalbuma lett. Kritikusok tömege kapta fel ekkor a fejét, ki ez az ősz szakállú, kalapos, napszemüveges fickó, aki a borítón elnéz mellettünk, mit csinált az elmúlt negyven évben, mire ez az anyag felszínre tört belőle. És akkor jött az újabb meglepetés: az indianai születésű, később Los Angelesben letelepedett zongoristaénekes az elmúlt négy évtizedet végig a zeneiparban húzta le, keresett sessionzenész volt, majd producerként kereste a kenyerét, illetve ősz fejjel filozófiából diplomázott. A hirtelen feltámadt érdeklődésre reagálva további életrajzi adalékként pedig 2002-ben kiadta második szólóanyagát, a Red, White And Bluest.
Tracklist:
01 – Red, White & Blues
02 – The Holy Howl
03 – The Boy Who Stole The Blues
04 – The Boogie Man
05 – Blue Collar Blues
06 – DNA
07 – Prisoners Of War
08 – (Children At Play)
09 – Have You Seen The American Dream
10 – We Be Marchin'
11 – Happy As A Runaway Slave
12 – I Do This For The Dead
13 – Welcome To The Fault Line
14 – Cadillac To Go
Külön köszönet Nagygazemberimi-nek a lemezért és az eredeti feltöltésért!
https://tinyurl.com/y4klff77
Találatok: 1