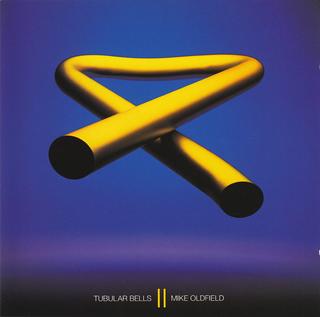 A Tubular Bells II (Csőharangok II) Mike Oldfield 1992-es, tizennegyedik nagylemeze. Az elkészítésének gondolata 1989 körül merült fel, amikor egy tévéműsor kedvéért Oldfield részleteket játszott a Tubular Bellsből. Előző kiadója is presszionálta, hogy elevenítsék fel korábbi, legsikeresebb albumát. Az Amarok albumot a kiadó szerette volna Tubular Bells II néven kiadni, Oldfield azonban ezt nem engedte, mert úgy gondolta, semmi köze a lemeznek ahhoz. Miután elégedetlensége miatt szakított lemezkiadójával, és új társasághoz szerződött, nekikezdett a régi album folytatásának. Munkájára hatással volt az új producer, Trevor Horn érkezése is.
A lemez az eredeti Tubular Bells szerkezetét, főbb motívumait megtartotta, de legtöbb részletében teljesen új kompozíció. Felismerhető például a kezdő téma, de pontos dallamában, hangszerelésében jelentősen megváltozott. Az első rész végén található finálé is nagyon hasonlít elődjére, még a hangszerek nevének felsorolása is megmaradt, de a dallam azért itt is más. A többi téma is egyezést mutat sebességében, hangulatában. 
A lemez megjelenését egy nagyszabású koncert kísérte, melyet az Edinburghi Vár tövében rendeztek. A mű hatalmas kritikai és közönségsikert aratott.
Tracklist:
01 – Sentinel
02 – Dark Star
03 – Clear Light
04 – Blue Saloon
05 – Sunjammer
06 – Red Dawn
07 – The Bell
08 – Weightless
09 – The Great Plain
10 – Sunset Door
11 – Tattoo
12 – Altered State
13 – Maya Gold
14 – Moonshine
Külön köszönet Nagygazemberimi-nek a lemezért és az eredeti feltöltésért!
https://tinyurl.com/y4u98t27
Találatok: 5