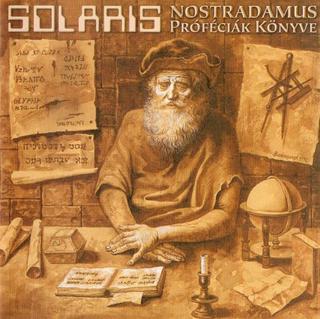 1999-ben, 16 év után új stúdióalbumot készített a zenekar, Nostradamus – Próféciák Könyve / Book Of Prophecies címmel. Ennek első élő bemutatójára még ugyanabban az évben Washingtonban és a New York melletti betlehemi Nearfest-en került sor.
A témaválasztás ugyanolyan extravagáns, mint korábban bármikor. Hatalmas ívű, monumentális alkotás szimfonikus elemekkel, sok fuvolával, gitárral, szintetizátorral és kórussal. "Hosszú ideje foglalkoztat bennünket a 'Nostradamus legenda'. Persze, nem feltétlenül úgy, mintha hinnénk benne. Sokkal inkább úgy, mint egy misztikus variáció a nagy kérdésre: mennyire vagyunk az idő folyásához kötve? Tényleg átléphetetlen fal választja el tőlünk a jövőt? – a kérdés attól elgondolkodtató, hogy nincs rá válasz."
Bogdán Csaba – gitár
Erdész Róbert – billentyűs hangszerek
Gömör László – dob
Kisszabó Gábor – basszusgitár
Kollár Attila – fuvola, blockflőte, vokál
Pócs Tamás – basszusgitár
közreműködik:
Ullmann Zsuzsa – vokál
Demeter György – vokál
Gerdesits Ferenc – tenor
Bátor Tamás – basszus
Varga János – gitár
Vámos Zsolt – gitár
Muck Ferenc – szaxofon
Tracklist:
01 – Book Of Prophecies (Part 1) – Foreword
02 – Book Of Prophecies (Part 2) – Birth Of Visions
03 – Book Of Prophecies (Part 3) – At The Gate Of Eternity
04 – The Duel – The First Completed Prophecy (Henry II)
05 – The Lion's Empire – Elisabeth Of England
06 – Wings Of The Phoenix – Hisler
07 – Ship Of Darkness – 1999
08 – Wargames – The Third Antichrist
09 – The Moment Of Truth (Part 1)
10 – The Moment Of Truth (Part 2) – The Last Poem
11 – Book Of Prophecies (Radio Edit – Bonus)
Külön köszönet Nagygazemberimi-nek a lemezért és az eredeti feltöltésért!
https://tinyurl.com/y3ckpfzs
Ha kicsomagoláskor jelszót kér, írd be a Zenekucko szót a megfelelő helyre.
Találatok: 14