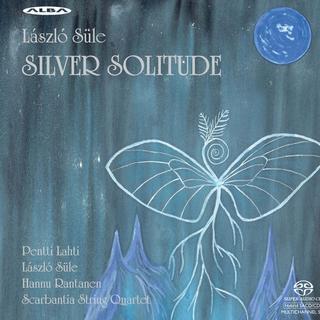 Be kell látnunk, hogy a huszonegyedik században véglegesen polgárjogot nyert a vonósnégyes a jazz-zenében. Magyar és finn muzsikusok harmonikus koprodukciója ez a korong. Süle László szerzeményeit egy jazz trió és a hozzá társult Scarbantia vonósnégyes adja elő. A komponista muzsikájában hol a jazz, hol a klasszikus zene elemeit helyezi előtérbe, olyan mixtúrát teremtve, amelyben ezek az elemek magátólértetődő természetességgel olvadnak össze, vagy éppen váltják egymást. Süle koncepcióját illetően egyébként nincs helye semmiféle találgatásnak, mert saját magát éppúgy tartja jazz-, mint klasszikus-zenésznek, mind a két zenét aktívan műveli, ezért jól ismeri mindegyik tábor gondolkodását, csúnya szóval élve: "hozzáállását". A Silver Solitude zenei anyagát egy lélegzetre, mindössze két hónap alatt írta meg, eleve ebben az együttesben gondolkodva. Így lettek úgy a kompozíciók, mind a hangszerelés testreszabottak, amit az együttes interpretációja vissza is igazol. 
Süle László teljesítményét három kategóriában is értékelni kell, mindegyikben kiváló volt:úgy is, mint komponista, úgy is, mint hangszerelő és úgy is, mint zongora-szólista. ~ Dr. Gregorits János (jazzma.hu)
Süle László – zongora
Pentti Lahti – szaxofon
Hannu Rantanen – basso
Scarbantia Vonósnégyes – Takács Zoltán – I. hegedű
Tracklist:
01 – Dripstone Music
02 – Moon's Silver Solitude
03 – Pikaia
04 – Linear Soundscape
05 – Cave Drawings
06 – Walking With Bach
07 – The Island of Kirke
https://tinyurl.com/yxmm6jc8
Ha kicsomagoláskor jelszót kér, írd be a Zenekucko szót a megfelelő helyre.
Találatok: 1