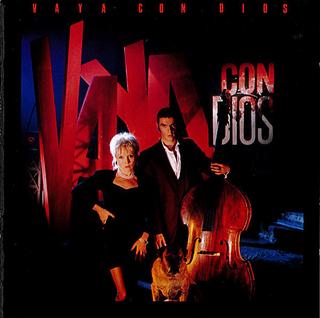 A Vaya Con Dios egy belga zenekar volt Brüsszelből. Dani Klein alapította, és ő volt az egyetlen örökös tag. A Vaya Con Dios legismertebb dala a "Nah Neh Nah". Nehéz kategorizálni zenei stílusukat, hiszen dalaikban több stílus is keveredik, a dzsessztől a világzenén át a latin zenéig.
Az együttest 1986-ban alapította Dirk Schoufs, Dani Klein és Willy Lambregt. Schoufs és Lambregt jó barátok voltak. Klein és Lambregt pedig egy elektronikus zenei együttesben is játszottak. Első kislemezük, a "Just a Friend of Mine" 1987-ben jelent meg. Franciaországban háromszázezer példányban kelt el. Első nagylemezük 1988-ban került piacra.
Tracklist:
01 – Don't Cry For Louie
02 – The Moonshiner
03 – Lord Help Me Please
04 – Lay Your Hands (Off My Man)
05 – Lulu's Song
06 – Just A Friend Of Mine
07 – Sold My Soul
08 – One Silver Dollar
09 – Philadelphia
10 – Remember
11 – Puerto Rico
12 – Johnny
Külön köszönet Nagygazemberimi-nek a lemezért és az eredeti feltöltésért!
https://pastebin.com/tviSvJnM
Találatok: 3