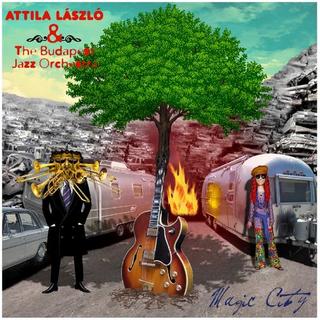 A zseniális gitáros, László Attila már a 70-es években meghonosította Magyarországon a jazz-rock dallamosabb irányzatát. Dúdolható, igényes pop slágerként értelmezhető témák, "dögös" alappal, és persze jobbnál-jobb improvizációkkal megspékelve. Fontos a jazz megszerettetése, elfogadtatása szempontjából is ez a vonulat, hiszen a műfajtól még idegenkedőket tán könnyebb "megfogni" ilyen jellegű muzsikával, mint például egy Cecil Taylor szólókoncerttel.
Sokunk örömére itt az új László Attila album, a Magic City! A lemezen kilenc László Attila kompozíció hangzik el. Kifejezetten jól áll a számoknak a big band hangzás! A groove-ok lüktetése, a témák feszültsége és/vagy szépsége, a rögtönzések világszínvonala még hangsúlyosabban jelennek meg a BJO közreműködésének köszönhetően. László Attila játéka néhány ütem elhangzása után felismerhető, annyira egyéni, energikus, ízléses és melodikus. A Magic City kapcsán is így van ez. ~ Gáspár Károly (jazzma.hu)
László Attila – gitár
Oláh Kálmán – zongora, keyboards
Lattmann Béla – basszusgitár
Veres Mónika "Nika" – ének (7)
Charlie – ének (8)
Budapest Jazz Orchestra
Tracklist:
01 – Doctor Q
02 – Soul to Soul
03 – Downhill
04 – La Montagne
05 – It's Already That
06 – Magic City
07 – When You Came
08 – Egy szippantás a jóból
09 – Tell Your Story
http://tiny.cc/lqutgz
Ha kicsomagoláskor jelszót kér, írd be a Zenekucko szót a megfelelő helyre.
Találatok: 6