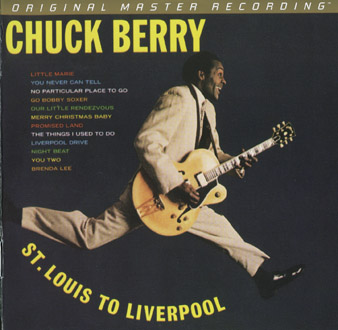 "Charles Edward Anderson Berry fiatalkorában semmi jelét nem adta annak, hogy a múlt századi 'könnyű' zene egyik legfontosabb személyisége válik belőle. Missouri államban, St. Louis városában született, nagyszülei még rabszolgák voltak. Apja már megbecsült ácsként dolgozott, anyja pedig azon fekete nők egyike volt, akik elvégezték a főiskolát, ami akkoriban ritkaságnak számított. Az amerikai délen akkor még dívott a szegregáció, a fekete negyedben élő Berry csak háromévesen látott először fehér embereket. A bajkeverő hírében álló fiú a középiskolában kezdett bluest énekelni és gitározni. A tanulás nem érdekelte, tizenhét évesen kirúgták, ami csöppet sem keserítette el. Két cimborájával Kaliforniába indultak, de csak Kansas Cityig jutottak, ahol egy talált pisztollyal kiraboltak néhány boltot, majd lopott autóval próbáltak menekülni.
Három évet töltött a javítóintézetben, jó magaviseletéért huszonegy évesen szabadult. Ezután volt autógyári munkás, házfelügyelő, miközben lelkesen énekelt és gitározott, a helyi klubokban játszott bluest, dzsesszt, sőt fekete létére countryt is. 1955-től egyre gyakrabban utazott Chicagóba, hogy felvehesse szerzeményeit, ami végül példaképe, a blueszenész Muddy Waters közbenjárására a Chess lemezcégnél sikerült is.
Chuck Berry 1955. május 21-én vette fel Maybellene című dalát, ezzel megszületett a rock and roll. Mások ezt a dicsőséget Bill Haley Rock Around the Clock című dalának tulajdonítják, a vita eldönthetetlen, az viszont biztos, hogy a rock and roll gitározás ezzel kezdődött. A Chess persze azonnal szerződést kínált neki, a dal pedig a listák élére röpült.
/hammerworld.hu/
https://links.snahp.it/igFmioEivwnJMVoAHK6DazWhUdb554lu0F8
password: psalm69
…………………………………………………………………………………………………………………….
…………………………………………………………………………………………………………………….
---
---
---
Találatok: 7