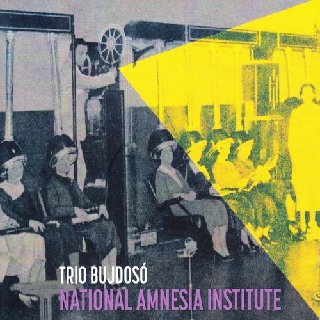 A 2011-ben alakult, saját műfaji megjelölése szerint "bizánci szörf jazzt" játszó, avantgárd és népzenei hatásokat is egybeolvasztó Bujdosó Trió eklektikusabb, sötétebb irányba mozdul el új nagylemezével, a National Amnesia Institute-tal.
A trió tagjai (Bujdosó János – gitár, Szerető Dániel – bőgő, Klausz Ádám – ütőhangszerek) olyan hazai zenekarokból verbuválódtak, mint az Európa Kiadó és a Specko Jedno; bemutatkozó lemezük 2013-ban jelent meg, Gold For Leslie címmel. A most megjelent új anyag körülbelül két éven keresztül érlelődött; kemény, progresszív album született, melyen a tört ütemes megborulásoktól a játékos-latinos, a Marc Ribot-féle Los Cubanos Postizos fúziós jazzéig terjedő skálán rengeteg stílusbeli válfajt jár be.
Tracklist:
01 – Human Wurlitzer Virus
02 – Spring Palace
03 – Breaks in Eternity
04 – Full-Time Scapegoating
05 – The Woman and the Curtain
06 – Squeeze, Rodolpho!
07 – The Holy Left Hand Gives the Finger
08 – Shoebox Harmony
https://zenekucko.com/bujtrinataminst
Ha kicsomagolásnál jelszót kér, írd be a Zenekucko szót a megfelelő helyre.
Találatok: 9