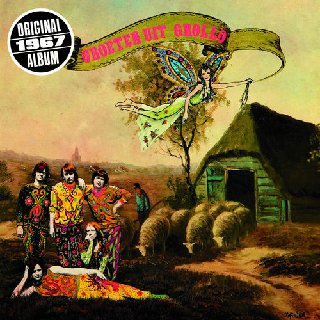 Harry "Cuby" Muskee 1941. június 10-én született Assenben.  A kezdeti próbálkozások után 1964-ben csatlakozott a korábban a The Rocking Strings néven játszó csapathoz, amelyben a nagyon tehetséges Eelco Gelling gitáros "vitte a prímet". A Cuby + Blizzards (sokszor így írták a nevüket) a brit rhythm and blues stílusában kezdett játszani, ahogy a korai Rolling Stones és a Pretty Things.
1965 őszén jelent meg az első kislemezük, majd egy évvel később a Desolution című debütáló albumuk, amelyen saját szerzeményeik mellett John Lee Hookertől ismert dalokat és Eddie Boyd klasszikust is játszottak. Ezen a korongon már megmutatták, hogy Európában nem csak az angolok képesek dögös bluest nyomni.

Az 1967-ben piacra dobott Groeten Uit Grollo című LP-jükön még összeszedettebb lett a hangzásuk, ezen még inkább érződött a Chicago blues átütő ereje. Ebben az évben – 1967 – távozott Hans Kinds gitáros és érkezett Herman Brood zongorista-orgonista, aki komoly erősítést jelentett. Három tartópillére lett a Blizzards-nak: Cuby különleges hangja, Gelling gitár- és Brood billentyűs játéka. Következő lemezükön (Groeten Uit Grollo Philips 6440310) is szerepel két Hooker feldolgozás – King Of The World, No Shoes – és Eddie Boyd egy kompozíciója – The Big Bell – és mindhárom feldolgozás veri az eredetieket. Ugyanakkor Big Joe Williams Baby, Please Don't Go-ja rövidre, színtelenre sikeredett.
A saját szerzemények közül kiemelkedik a Somebody Will Know Someday, Cuby drámai éneke illetve Brood és Gelling könnyed, jazzes játéka közötti feszültség uralja a számot, s csak a végén, a hetedik perc elején "találkoznak", amikor Muskee hangja megváltozik, laza lesz. A So Many Roads és az Another Land bármelyik kortárs angol blueszenekar albumán is helyet kaphatott volna.
Tracklist:
01 – Another Day, Another Road
02 – The Big Bell
03 – Somebody Will Know Someday
04 – So Many Roads
05 – King Of The World
06 – Baby Please Don't Go (Back To New Orleans)
07 – No Shoes
08 – Another Land
http://tiny.cc/tvdtkz
Találatok: 1