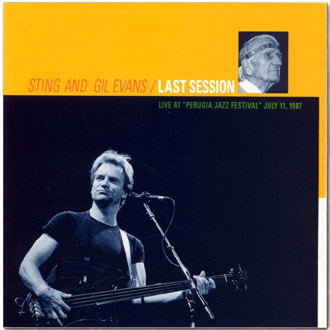 1987-ben Sting Olaszországban, a Perugiai Jazz Fesztiválon a bigband jazz egyik neves előadója, Gil Evans vendégeként lépett fel.
Sting took a break from the recording session for the album "Nothing Like The Sun" and performed a show with Gil Evans and his orchestra in a stadium in Perúgia. The media attention for this event was reflected by the fact that Rai Uno, the most popular Italian public TV channel broadcast it live during prime time.The Umbria Jazz 87 Festival was held from 10-07-1987 to 19-07-1987.
On March 20, 1988 legendary jazz composer/pianist Gil Evans died at the age of 75 after complications during an operation in Mexico. This was about eight months after the show in Perugia.
01. Exp (Written by – Jimi Hendrix)
02. Strange Fruit (Allan)
03. Shadows in the Rain (Sting)
04. Little Wing (Jimi Hendrix)
05. Comes a Time (Tony Williams)
06. Introduction of the Band
07. Consider Me Gone (Sting)
08. Murder by Numbers (Sting)
09. Roxanne (Sting)
10. Tea in the Sahara (Sting)
A Gil Evans Band tagjai:
Gil Evans: keyboards
Delmar Brown : synthesizers
Gil Goldstein : DX7 synthesizer
John Surman : baritone saxophone, synthesizers
Branford Marsalis: tenor saxophone
George Adams : tenor saxophone, vocal
Chris Hunter : alto saxophone
Lew Soloff : trumpet
Shunzo Ono : trumpet
Miles Evans : trumpet
John Clark : french horn
David Bargeron : trombone, tuba
Tom Malone : tenor trombone, bass trombone
George Lewis : tenor trombone
Emily Mitchell : harp
Mark Egan : electric bass
Danny Gottlieb : drums
Anita Evans : percussion
Urszula Dudziak : back-up vocal
https://zenekucko.com/Stgev
………………………………………………….
Forrás: Levin (2016 Nov 13 8:13:37)
---
---
---
Találatok: 21