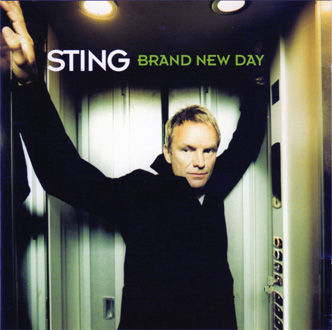 Egy teljesen új lapot nyitott Sting saját zenetörténetében, egy vadonatúj nappal indítva el fiatal zenésztársait a világhír felé. A lemez és bemutató turné után, mindenki megjegyezte Chris Botti trombitás nevét, aki alázatosan szolgálja ki fõnökét és emellett még frenetikus szólokat is megenged magának. A zongoránál, a szintén merészen fiatal Jason Rebello mutatja meg tehetségét, az elhunyt Kenny Kirkland székében. Manu Katché visszatérve ismét Stinghez megfelelõ ritmusalapot ad, hogy megfelelõ összhangot találjon a zenekar a jazz, a különféle latin elemeken alapuló pop és rock dalok valamint a balladák között. Dominic Miller tényleg a legalázatosabban gitározik Sting mögött, korábban nem is értették kritikusai, hogy mit akar ez az argentin származású srác a csapatban – pedig mennyire hiányozna, ha nem adna megfelelõ ritmust és hátteret a daloknak. Valószínüleg nem lett volna ennyire elektronikus a teljes Brand New Day album, ha nem találkozik korábban Sting Kipperrel, aki a lemez társproducere, másodbillentyûse, és zenei programozója volt. Talán nem így szólna ma a Desert Rose (Cheb Mamival), sem Kipper és Sting közös dala az A Thousand Years sem. A lemez tele van – méltánytalanul mellõzött – húzós nótákkal még. Az After The Rain Has Fallen a kilencvenes évek Sting hangszerelését és dalfelépítését követi, míg a Fill Her Up a rock, a country és a gospel megfelelõ arányú keverékébõl hagyja rajt jelét a korongon. A Perfect Love. Gone Wrong a jazz-esebb Stinget hozza vissza 2000-es hangszerelésben. És mielõtt eljutnánk a lemez csúcspontjára a Brand New Day-hez, elaltat minket Sting a Ghost Story-val, mindezt azért, hogy ne felejtsük el kivel is volt 50 percen keresztül dolgunk. Persze, nem kevés marketing segítsége is van Stingnek, például az End Of The Game c. dalból csak a kezdõ 19 másodperc található meg az albumon, a teljes dalt kislemezen szerezhetjük be.
01. A Thousand Years
02. Desert Rose
03. Big Lie Small World
04. After The Rain Has Fallen
05. Perfect Love…Gone Wrong
06. Tomorrow We'll See
07. Prelude To The End Of The Game
08. Fill Her Up
09. Ghost Story
10. Brand New Day
Sting – basszusgitár, bv's, vg-8 guitar synth, ének; Kipper – dobprogram, billentyűs hangszerek
Dominic Miller – gitár
Manu Katché – dob
Vinnie Colaiuta – dob
Jason Rebello – zongora, klavinet
Chris Botti – trombita
+
Stevie Wonder – szájharmonika
James Taylor – ének
Cheb Mami – ének
Branford Marsalis – klarinét
Mino Cinelu – ütőhangszerek
Dave Hartley – string arranger and conductor (3. és 6. szám), Hammond orgona
B.J. Cole – pedal steel gitár
Kathryn Tickell – Northumbrian pipes, hegedű
Don Blackman – Hammond orgona
Sté – ének
Gavyn Wright – a vonósok vezetője (3. és 6. szám)
Joe Mendez – háttérvokál
Janice Pendarvis – háttérvokál
Althea Rodgers – háttérvokál
Marlon Saunders – háttérvokál
Veneese Thomas – háttérvokál
Darryl Tookes – háttérvokál
Ken Williams – háttérvokál
Tawatha Agee – háttérvokál
Dennis Collins – háttérvokál
Ettamri Mustapha – darbouka
Farhat Bouallagui – string arrangement (második szám), conductor and leader
Moulay Ahmed – húros hangszerek
Kouider Berkan – húros hangszerek
Salem Bnouni – húros hangszerek
Sameh Catalan – húros hangszerek
https://tknk.io/mHhv
…………………………………………………………………………………………………………………….
Forrás: Levin (2016 Máj 15 3:09:02)
---
---
---
Találatok: 10