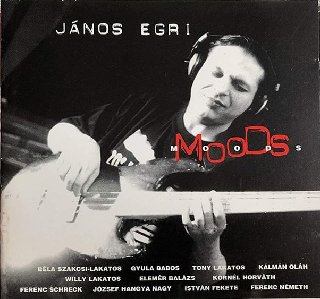 Egri János jazzbőgős és basszusgitáros, a fiatal generáció egyik legtöbbet foglalkoztatott tagja. Elsősorban modern mainstreamet játszik, de részt vett számos crossover, world music és popzenei produkcióban is.
1990-ben Oláh Kálmánnal (zongora) és Balázs Elemérrel (dob) megalakította a Trio Midnight-ot, mellyel öt lemezt adtak ki. Első saját együttesét, az Egri János Groupot 1996-ban hozta létre. 1998-as Moods című albumukon rockos alapú jazz és virtuóz basszusgitárszólók hallhatók.
Tracklist:
01 – Chaos
02 – In Memoriam Miles
03 – Suvretta
04 – Song for my Son
05 – Móci
06 – Pinocchio
07 – Moody Blues
08 – Magic
09 – Eighty-one
10 – Travel with me
https://zenekucko.com/egjamo
Ha kicsomagolásnál jelszót kér, írd be a Zenekucko szót a megfelelő helyre.
Találatok: 14