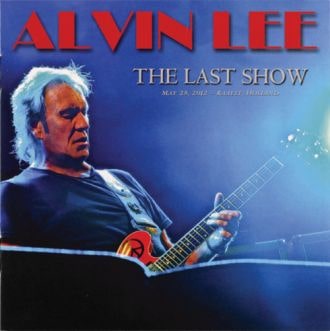 Az 1944. december 19-én született brit gitáros, Alvin Lee (Graham Anthony Barnes) 2013. március 6-án, egy rutinműtét közben fellépő komplikáció következtében hunyt el.
"Lee 1966-ban alapította meg Angliában a Ten Years Aftert, amivel ugyan nem lettek olyan híresek, mint a Cream, vagy a Led Zeppelin, de nagy hatást gyakoroltak az utánuk jövő generációkra. Lee-t az első gitárhősök egyikeként emlegetik gyors játéka miatt, sok későbbi hard rock zenész hivatkozik rá, mint inspirációra. A Ten Years After a Woodstock fesztivál egyik főzenekara is volt, de Lee elmondása alapján akkor ez a zenészek számára nem jelentett mást, mint egy újabb koncertet nagy tömeg előtt. A fesztivál után jóval híresebb lett a zenekar, de 1974-ben így is feloszlottak. Agy 1983-as rövid újjaáalakulást követően 1988-ban ismét összeállt a zenekar, és Lee egészen 2003-ig benne is maradt, igaz lemezt csak egyet adtak ki 1989-ben. Lee szólózenészként is folyamatosan aktív volt. Első, Mylon LeFevre énekessel közös lemezét 1973-ban adta ki, az utolsót pedig tavaly, Still on the Road to Freedom címmel. A nyolcvanas évek végén Lee eladta mindenét Angliában, elköltözött Spanyolországba, ahol haláláig élt." (Lángoló gitárok blog)
A lemez felvételei Lee utolsó nagy koncertjén, 2012. május 28-án a hollandiai Raalte-ben készültek.
Kedves Gykrantz, köszönjük a lemezt!
A számok:
01. Hear Me Calling
02. I Can't Keep From Crying Sometimes
03. How Do You Do It
04. My Baby Left Me
05. Country Thing
06. I Don't Give A Damn
07. I'm Writing You A Letter
08. Slow Blues in 'C'
09. I'm Gonna Make It
10. Scat Encounter
11. I Woke Up This Morning
12. Love Like A Man
13. Going Home
14. Rip It Up
A zenészek: Alvin Lee – Guitar, Harmonica, Vocals ; Richard Newman – Drums; Pete Pritchard – Bass (Electric), Double Bass.
https://zenekucko.com/05024
Találatok: 6