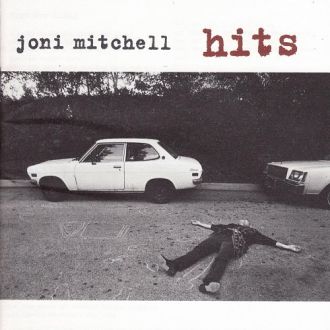 Joni Mitchell 1943-ban született kanadai énekesnő, dalszerző Pete Seeger lemezeit hallgatva tanult meg gitározni. A hatvanas évek elején torontói bárokban lépett fel, majd New Yorkban dalszerzőként vált ismertté.
Amikor a csontos arcú, nyuszifogú, mégis vonzó megjelenésű szőke lány, akinek alkotó vénáját egy végül nyomtalanul eltűnt gyermek-paralízis hozta ki, a 60-as évek közepén megérkezett az USA-ba gitárjával és saját dalaival, minden arra predesztinálta, hogy ugyanolyan "folk-madonna" legyen, mint Joan Baez, Melanie Safka, Buffy St. Mary, vagy Judy Collins. Első lemezen megjelent szerzeményét éppen Collins énekelte, és ennek nyomán fedezték fel őt az amerikai lemezkiadók. Első nagy sikereit azonban még mások aratták le: a Woodstock című dalt, amit távollétében írt a nagy szeretetnyárról, többek között a Crosby, Stills, Nash and Young kvartett adta elő (Jonit menedzsere lebeszélte a fesztiválról), A The Circle Game-et pedig Buffy St. Mary adta elő az Eper és vér című diákforradalmi film főcímzenéjeként.
Jonit azonban 1971-ben már a Blue című albumáért ünnepelték és Carole Kinggel, aki a szintén nagyszerű Tapestry-vel jött ki, a rock-emancipáció hősnőinek tartották őket. De amíg King nem tudott többé ráduplázni nagy dobására, addig Joni a maga csendes, tiszta, de eltökélt módján szépen kialakított egy csak rá jellemző hangot, egy, akusztikus hangszerek által dominált dallamvilágot, amelyhez sutba dobta a hagyományos "énekelt vers" szabályait, és inkább az amerikai szabad szóáramlást próbálta zenébe oltani, a "beat-költők" és a szürrealisták látásmódjával.
Ez a lemez leginkább egy best of válogatásra emlékeztet. Mert az is.
A dalok:
01. Urge for Going – 5:05
02. Chelsea Morning – 2:31
03. Big Yellow Taxi – 2:14
04. Woodstock – 5:27Tracks 3-5 from Ladies of the Canyon.
06. Carey – 3:02
07. California – 3:50
08. You Turn Me on I'm a Radio – 2:39
09. Raised on Robbery – 3:05
10. Help Me – 3:22
11. Free Man in Paris – 3:02
12. River – 4:04
13. Chinese Café/Unchained Melody – 5:18
14. Come in from the Cold – 7:30
15. Both Sides Now – 4:34
https://zenekucko.com/01065
Találatok: 6