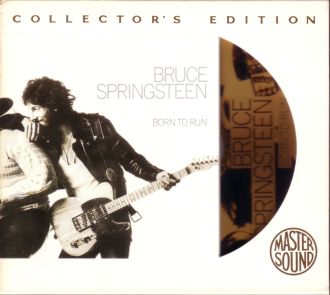 Az 1001 Albums You Must Hear Before You Die (1001 lemez, amit hallanod kell, mielőtt meghalsz) sorozat háromszázharmincötödik (335) lemeze Bruce Springsteen harmadik stúdióalbuma.
Bruce Frederick Joseph Springsteen (1949) a New Jersey állambeli Freeholdban ír és olasz szülők gyermekeként látta meg a napvilágot. Fiatal éveit szűkebb hazájában élte le, később Born To Run című száma – legalábbis a legenda szerint – kis híján New Jersey hivatalos himnusza lett. (Ezt az énekes ironikusnak találta, mert szerzeménye éppen arról szól, hogy el akarja hagyni az államot.)
Kamaszkorától zenél, gitározik, énekel, olykor szájharmonikázik, nagy hatással volt rá Bob Dylan, akihez szoros barátság fűzi, Chuck Berry, a Beatles, a Rolling Stones, de Van Morrison és Woody Guthrie zenéje is. Első együttesét 1965-ben alapította, ezután több formációban is megfordult, és ráragadt a Főnök (Boss) becenév.
1971-től szólóban folytatta. New York kávézóiban és bárjaiban lépett fel, ekkoriban vette szárnyai alá Mike Appel menedzser, aki kijárt neki egy szerződést a Columbia kiadónál.
Első lemezére készülve hozta össze az E Street Bandet, amely első koncertjét 1972. november 12-én adta. Az 1973-ban megjelent Greetings from Asbury Park, N.J. című lemez a szakma egyöntetű elismerésével találkozott (a Billboard magazin a maximális, 5 pontot adta kritikájában), de alig 25 ezer példány kelt el belőle, a slágernek szánt Blinded By The Light akkor még a kislemezlistára sem jutott fel. (Néhány évvel később aztán a Manfred Mann's Earth Band is felvette, az ő előadásukban lett világsláger.) Springsteen még abban az évben kijött a The Wild, The Innocent And The E. Street Shuffle című koronggal is, a kritikusoknak ez is tetszett, a közönségnek akkor még ez sem.
Karrierjének új lökést az adott, amikor a Rolling Stone magazin újságírója, Jon Landau lett a producere. Landau 1974-ben ott volt az E Street Band koncertjén, és lelkes hangú cikket írt róla, benne a profetikus mondattal:
"Láttam a rock and roll jövőjét: úgy hívják, hogy Bruce Springsteen."
A zenész ezután vonta be Landaut a nagy áttörésnek szánt Born To Run című lemez munkálataiba. A másfél év csiszolgatás után, 1975-ben a boltokba került album néhány hét alatt a lista harmadik helyéig jutott, és a legnagyobb sztárok közé repítette. Harmincadik születésnapját már országos turnéval ünnepelte, 86 városban 109 koncertet adott.
A számok:
1. Thunder Road
2. Tenth Avenue Freeze-Out
3. Night
4. Backstreets
5. Born To Run
6. She's The One
7. Meeting Across The River
8. Jungleland
A zenészek:
Az E Street együttes:
Roy Bittan – zongora, Fender Rhodes, háttérvokál
Ernest "Boom" Carter – dob a Born to Run-on
Clarence Clemons – szaxofon, csörgődob, háttérvokál
Danny Federici – orgona, harangjáték
Suki Lahav – hegedű a Junglelanden
David Sancious – zongora, orgona a Born to Run-on
Bruce Springsteen – ének, gitár, harmonika, ütősök, kürt
Garry W. Tallent – basszusgitár
Max Weinberg – dob
+
Steven Van Zandt – kürt a Tenth Avenue Freeze Out-on, háttérvokál a Thunder Road-on
Wayne Andre – harsona
Mike Appel – háttérvokál
Michael Brecker – kürt, szaxofon
Randy Brecker – trombita, szárnykürt
Charles Calello – karmester, húrosok
Richard Davis – basszusgitár
David Sanborn – szaxofon
https://zenekucko.com/07784
Találatok: 6