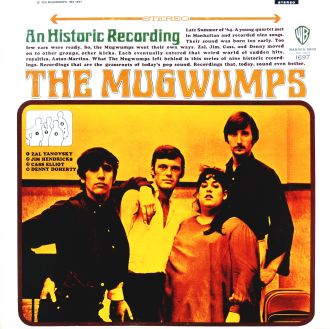 A rövid életű The Mugwumps együttes 1964-ben  New Yorkban alakult, és még abban az évben, egy nagylemez és két kislemez felvételeinek elkészítését követően fel is bomlott. (A nagylemez 1967-es megjelenésekor az együttes már nem működött.)
Ezután a tagok közül Cass Elliot (Mama Cass) és Denny Doherty a The Mamas & The Papas, míg John Sebastian és Zal Yanovsky a The Lovin' Spoonful alapítói lettek, James Hendricks, Cass Elliott férje pedig leginkább dalszerzéssel foglalkozott.
Így ez az album, melynek felvételein John Sebastian már nem is vett részt, ma már zenetörténeti emléknek számít.
A számok:
1. Searchin' (Leiber-Stoller) 2:52
2. I Don't Wanna Know (Rowberry, Beecham) 2:07
3. I'll Remember Tonight (Chris Andrews) 2:00
4. Here It Is Another Day (Elliot, Hendricks) 2:12
5. Do You Know What I Mean (Felix Pappalardi) 1:56
6. You Can't Judge A Book By Its Cover (Willie Dixon) 2:59
7. Everybody's Been Talkin' (Elliot, Hendricks) 2:26
8. Do What They Don't Say (Alan Hawkshaw) 2:13
9. So Fine (Johnny Otis) 2:35
A zenészek:
Cass Elliot, Denny Doherty, Zal Yanovsky, James Hendricks
https://zenekucko.com/07792
Találatok: 8