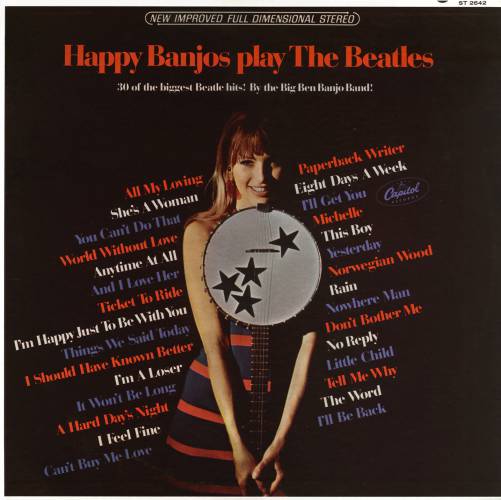 Norman William 'Norrie' Paramor (1914-1979) brit zeneszerző, hangszerelő, karmester és producer az ötvenes évek elejétől a hatvanas évek végéig a brit könnyűzene egyik meghatározó egyénisége volt. Elévülhetetlen érdemei voltak a rock and roll zene meghonosításában. Producerként ő és George Martin (The Beatles) tartották a legtöbb, a slágerlistákon első helyezést elért kislemez rekordját.
Ő volt Cliff Richard és a Shadows producere és hangszerelője.
A The Big Ben Banjo Band nevű zenekart is ő szervezte stúdiózenészekből, és az ötvenes évek közepétől számtalan tematikus lemezük jelent meg.
Ez a lemezük Beatles szerzemények feldolgozásait tartalmazza.
A számok:
01.
All My Loving – She's A Woman – You Can't Do That 3:50
02.
World Without Love – Anytime At All – And I Love Her 3:34
03.
Ticket To Ride – I'm Happy Just To Dance With You – Things We Said Today 3:26
04.
I Should Have Known Better – I'm A Loser – It Won't Be Long 2:38
05.
A Hard Day's Night – I Feel Fine – Can't Buy Me Love 3:16
06.
Paperback Writer – Eight Days A Week – I'll Get You 3:12
07.
Michelle – This Boy – Yesterday 4:04
08.
Norwegian Wood – Rain – Nowhere Man 3:01
09.
Don't Bother Me – No Reply – Little Child 3:30
10.
Tell Me Why –  The Word – I'll Be Back 2:33
https://zenekucko.com/06800
Találatok: 10