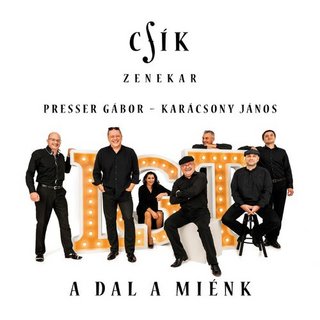 Izgalmas vállalkozásba fogott a Csík zenekar. Soha nem adott még ki olyan lemezt, amely csak feldolgozásokat tartalmazott, ráadásul egy zenekar dalaiból válogatva!
2020 júniusában rögzítették a 9 dalt tartalmazó albumot, amelyen az LGT kompozícióit muzsikálják abban az erős népzenei elemekkel átitatott hangzásvilágban amely annyira jellemző rájuk.
A lemezen végig együtt játszanak az LGT két legendás zenészével, Presser Gáborral és Karácsony Jánossal.
Tracklist:
01 – A dal a miénk
02 – Mi lesz velem
03 – Miénk itt a tér
04 – Embertelen dal
05 – Áldd meg a dalt
06 – Magyarország
07 – És jött a doktor
08 – Ugye mi jó barátok vagyunk
Bonus track:
09 – Rock and roller
https://zenekucko.com/csikadala
Ha kicsomagolásnál jelszót kér, írd be a Zenekucko szót a megfelelő helyre.
Találatok: 38