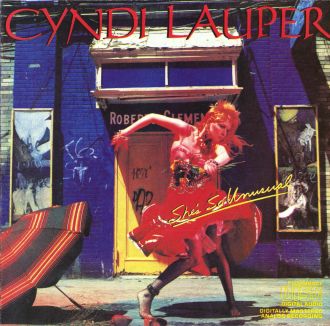 Az 1001 Albums You Must Hear Before You Die (1001 lemez, amit hallanod kell, mielőtt meghalsz) sorozat 523-ik lemeze.
Cynthia Ann Stephanie "Cyndi" Lauper (New York, New York, 1953. június 22.) kétszeres Grammy díjas, Emmy-és Tony díjas amerikai énekesnő, dalszövegíró, zeneszerző, színésznő, melegjogi aktivista azon kevés előadóművészek egyike, akiknek GET-je van (Grammy-Emmy-Tony díj).
She's So Unusual című 1983-as lemeze hatalmas kritikai és közönség siker lett, a lemez dalai pedig örökzöldekké váltak, az album szerepel a "Minden idők 500 legjobb lemeze" listán. Legsikeresebb dalai a "Girls Just Want to Have Fun", a "Time After Time", a "She Bop", és az "All Through the Night". Az album bombaként robbant a lemezpiacon, 65 hétig vezette a slágerlistát és 22 millió példány fogyott belőle világszerte, Lauper pedig világsztárrá vált.
A 21. században is nagy figyelem övezte a karrierjét, számos lemeze mellett első lemezét is többször, többféle verzióban kiadták (legutóbb 2014-ben). Az amerikai zenei élet meghatározó alakja, aki az éneklés mellett az élet számos területén alkotott maradandót.
Legnagyobb sikereit a 80-as években érte el, a könnyűzene történetében ő volt az első olyan előadó, akinek egy nagylemezéről (She's So Unusual) kislemez formájában négy dal is felkerült az amerikai slágerlisták első öt helyére. Ezt a rekordját azóta sem döntötte meg egyetlen női előadó sem.
A dalok:
01. Money Changes Everything   (Tom Gray)   5:06
02. Girls Just Want to Have Fun   (Robert Hazard)   3:58
03. When You Were Mine   (Prince)   5:06
04. Time After Time   (Rob Hyman, Cyndi Lauper)   4:03
05. She Bop   (Chertoff, Corbett, Lauper, Broughton Lunt)   3:51
06. All Through the Night   (Jules Shear)   4:33
07. Witness   (Lauper, John Turi)   3:40
08. I'll Kiss You   (Lauper, Shear)   4:12
09. He's So Unusual   (Al Sherman, Al Lewis, Abner Silver )  0:45
10. Yeah Yeah   (Hasse Huss, Mikael Rickfors)   3:18
https://zenekucko.com/07387
Találatok: 11